360° Headlamp Kit
Flashlight is not included unless you add one ;)
The 360 Headlamp is a holder for Mini MKIII and Mini Turbo MKIII lights. It's also amazingly versatile and you can mount it just about anywhere, not just on your head.
The all new 360 Headlamp is printed in-house on our Formlabs Fuse1 printer from Nylon12 plastic. We've also modified it so you can use the Headlamp Kit without removing the pocket clip!
Product Overview
A headlamp...without the limitations of a headlamp. Put light wherever you want it, whenever you want it! The 360 Headlamp looks a little crazy and that's because it is...crazy awesome. I love headlamps as much as the next person, but I didn't realize how limited they were until I tried the 360. There isn't anything else like it on the market. Take a second, open your mind (I knew you could do it), and give it a try. You won't be dissapointed, but you might wonder why everone else is making/buying "regular" headlamps ;)
Product Details
Can we be honest for a second? Headlamps suck. Ask the friend you just blinded. We've all come to accept mediocrity as the standard because headlamp designers got lazy and didn't offer us anything new. The 360 Headlamp was the brain child of Foursevens' founder David Chow. It's a great concept and breaks the mold for headlamps because you can do whatever you want with it. He understood that the concept was not "headlamp" but rather, "hands-free lighting." Enter the 360 Headlamp.
Extending the hands-free concept, my contributions to the "new" 360 Headlamp are a Velcro backing and making the Mini/Turbo MKIII lights natively compatible with the headlamp base without the need for additional adapters. You won't find a more versatile headlamp on the market.
One thing always bothered me about the headlamp. You had to remove the pocket clip to install the light. Super annoying. However, the 360 Headlamp was never designed for the Mini series, it was designed for the (now discontinued) Atom series. The Mini/Turbo MKIII variant introduced headlamp compatibility by adding the hex and magnet to the back...but you still had to remove the clip to use the headlamp kit.
The old headlamp was made from 5 separate injection molded parts. Adding a slot for the clip would require retooling two injection molds and cost around $30K. We just don't sell that many headlamps. I went a different route and bought a Formlabs Fuse1 SLS printer so we could make these headlamps (and a variety of other products) right here in the shop without having to buy several thousand all at once. One thing I love about manufacturing is using the latest technology to make products better, on demand, and in-house.
Native compatilibly
Previously the 360 Headlamp was compatible with a range of lights if you used several different adapters. I upgraded the current Mini/Turbo MKIII lights to provide "native" compatibility: they work with the headlamp without any adapters.
one handed operation
Single-hand on/off operation of the Mini/Turbo MKIII lights when mounted in the headlamp. It attaches solidly with a large neodymium magnet.
Velcro® Hook & Loop
Genuine Velcro® "low profile" hook and loop fasteners...no generic stuff. The headlamp has a hook patch on the back and comes with two round (adhesive back) loop patches that you can stick anywhere you want. We have a lot of professional users mounting headlamps to welding hoods, climbing helmets, and even firefighting helmets.
included with your purchase
* 360* Headlamp Base
* Elastic Head Band
* 2x Adhesive Backed Loop Patches (also available separately)
Works with

Mini and Mini Turbo MKIII
headlamp material

Injection molded Delrin thermoplastic

where it's made
most versatile headlamp
Wear the headlamp on your forehead, one the side above the ears, or anywhere else. Being able to point the light means you aren't forced to wear it smack in the middle of your forehead...though you've been make to think that's the best option...because you've never been given an option. You can even mount two headlamps on the same strap. The best thing about the 360 Headlamp is you can mount it on the included headlamp strap, on Velcro loop, or you can mount it to any 1" webbing like MOLE or standard backpack shoulder straps.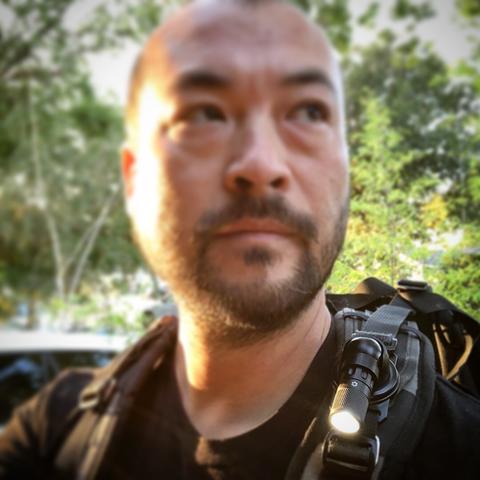 patch hat compatible
Are you ready to level up your headlamp game? Get one of our Patch Hats and you can mount the headlamp to the front of a ball cap. Elastic headbands are so 1990. Once you try this you'll never go back. The brim also keeps the glare out of your eyes.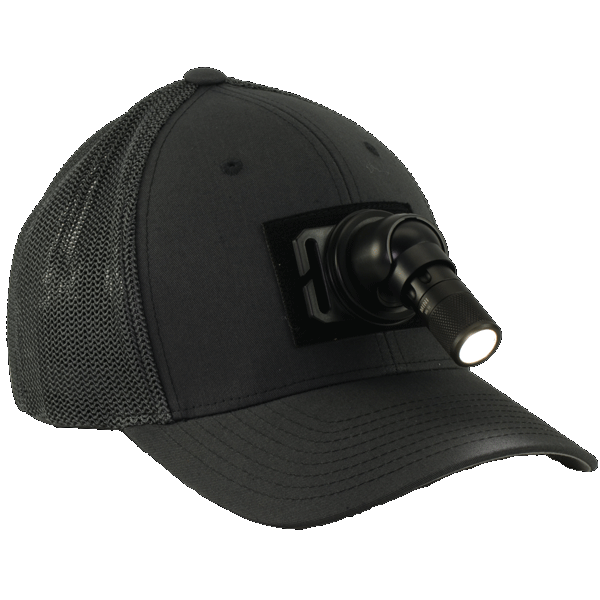 full articulation
You can point your light in absolutely any direction. Lesser headlamps are vertically adjustable or not adjustable at all. But we know that a one-size-fits-all solution is good for some and great for none. Well, we are in the business of great.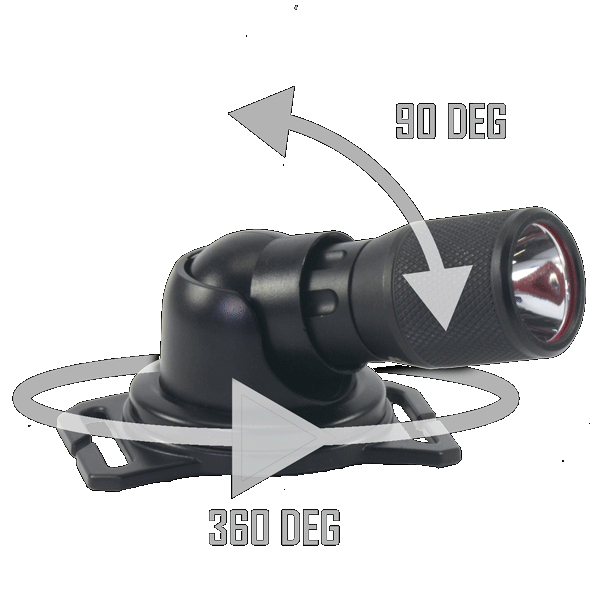 You may also like