Alpha Titanium (Raw Machined)
Blue Label lights are assembled to order and may take up to two weeks to ship.
Discounts cannot be applied to this item
Product Overview
---
| | | | | | |
| --- | --- | --- | --- | --- | --- |
| 1x18650 | Buyer's Choice | 650-750 | .5 | 1.5 hr | 270 hr |
---
Alpha Titanium lights are...Titanium. Need I say more? Alphas use CP2 (Commercially Pure) Titanium because it has 3x better thermal conductivity compared to alloyed titanium. This design is based on several itterations of the Alpha ICE (Integrated Cooling Elements). See how I shoehorned a fancy acronym to describe cooling fins? They also allow this Ti light to run an maximum power for longer, because we get the heat out of the LED.
Product Details
Appearance The machining details on the head evolved over a number of different special editions of the Alpha ICE (Integrated Cooling Element). As always, I'm looking for balance and classic lines. The entire light is machined from solid Domestic CP2 Titanium bar stock. Ever try drilling a 3/4" hole 4" deep in titanium? Good times. We use a carbide insert drill that costs $600 and uses two cutting inserts that are about $30 each.
Thermal Conductivity Ah yes, thermal conductivity. We are producing a lot of lumens and that makes a lot of heat. Deep grooving on the head helps get heat out of the light and into the environmet as quickly as possible. Everyone is going to ask why this light is made from CP2 (Grade 2) titanium and not from 6Al/4V (Grade 5) titanium. Sure, 6/4 is stronger...but we are making a flashlight, not a fighter jet. Strength doesn't really matter when aluminum will do just fine.
What the flashlight maker should concern themselves with is thermal conductivity. CP2 titanium conducts heat 3x better than 6/4 titanium. End of discussion? If you are making a light with this much power out of 6/4 titanium then you don't know (or don't care) how to engineer a flashlight.
Notes on owning a CP2 Titainum light Titanium is a galling material; it wants to smear and not slide past itself. This means you aren't supposed to make threaded parts out of it. Stainless steel is the same. If you ever torque a stainless nut onto a stainless bolt you are never getting the two apart.
We can get away with this in a flashlight because there isn't a lot of torque applied. However, this does mean that proper thread lubrication is ESSENTIAL. If you aren't the type to maintain your lights on a regular basis (clean/lube) then don't buy this light, you won't be happy with it.
You should expect a signficant break-in period where the threads feel rough-ish. They will eventually burnish out and become smooth if you maintain proper lubrication. The head threads are pre-treated with an extremely heavy lubricant (Munky Spunk) that is an excelent anti-galling agent.
During the break in period you'll get a lot of black colored "carry-off" as the threads basically sand themselves smooth. If you feel and increase in thread roughness, wipe this away with a clean cloth, but do NOT degrease the threads. Apply Nano-Oil after wiping down. Continue to wipe and re-oil as needed.
You should feel improvement over the course of several weeks. You can "play" with the threads but don't try and excessively accelerate the break in process. Part of that is allowing the threads to rest and the oil to penetrate the surface.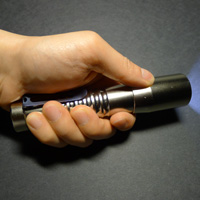 Ergonomics
An Alpha is a "full size" light: the largest size that's reasonably pocketable and the tailcap is recessed to allow tail standing. The size is deliberate and based on a blend of engineering and aesthetics. It's proportioned based on the "Golden Ratio" and intended to deliver a specific "hand feel" in terms of size and weight. The light is balanced for overhand, underhand, and cigar grips.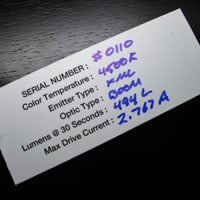 Transparency
I tell you everything there is to know about my lights. I hate it when companies are vague. To me this says they are hiding deficiencies or don't know what they are doing. I'm a researcher and a fiend for data. I want to know as much about a product as I can, before I buy it. My "secret sauce" is solid engineering, the best components I can get, and old fashioned hard work. That's also why my lights are expensive. I show you everything so you can see that I haven't cut any corners. Each Blue-Label light comes with it's own report card so you know exactly what you are spending your money on. Ready-Made lights do not.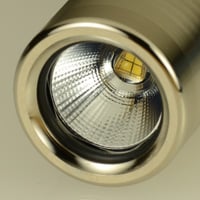 O-rings
The Alpha is sealed with only 3 O-rings and the silicone tailcap, making the Alpha rated for submersion and tested to 300 feet for 5 hours. This is unprecedented for a "general purpose" hand-held flashlight. Blue-Label lights feature blue fluorosilicone o-rings that are 10x more expensive that the industry standard Nitrile o-rings. Ready Made lights come with black Nitrile o-rings. Nitrile is the most common o-ring material and it's good...just not as good as fluorosilicone.
Dual Coated, Ultra-Clear Lens (UCL)
This is one of the most expensive components in the light. These premium glass lenses are coated on both sides with an anti-reflective coating that achieves 98% light transmission. That's really impressive...in case you weren't already impressed. The lens is so clear that a lot of people think I've forgotten to install it.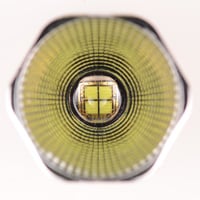 Faceted Ledil "Boom" Reflector
This reflector is made by Ledil of Finland. The only thing they make are optics for LEDs so you should expect it to be good. The reflector is precision-molded plastic and each facet is engineered to optimize the beam. Most reflectors used in flashlights are smooth (SMO) or orange peel (OP). Smooth reflectors put more lumens out the front, but the orange peel texture is added to smooth the beam and create more spill light, while slightly reducing output. The Ledil Boom is the best of both worlds, maximum light output with a perfectly smooth beam.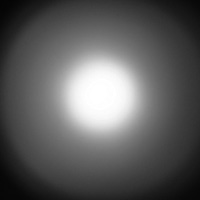 Beam Profile
The center spot is 20 degrees from edge to edge. The camera tends to exaggerate the separation between spot and spill. To the eye the transition is much more gentle. The Alpha is a floody light that produces a huge wall of light. It's not " thrower" but at +100m it's more than enough for 80% of flashlight use. In my opinion "throwers" are only good for special use cases...the 20% by the 80/20 rule and the Alpha is an everyday light. I'm proud to say one of the most frequent comments I get is how "perfect" the beam profile is. I can only take a little credit as most of it goes to those Fins. However, I did try (almost) every possible LED optic on earth before I settled on this one.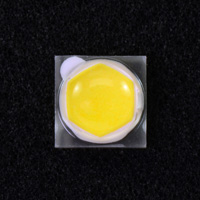 Premium LEDs
This is the most common place for flashlight manufacturers to skimp, but for me, this is where I spend most of my money. I only purchase LED's from a authorized US dealers or direct from the manufacturer. No grey-market or sketchy imports. I specify exact bins and I want to be absolutely sure that's what I'm getting. If you aren't buying direct there is no way to know what you're buying.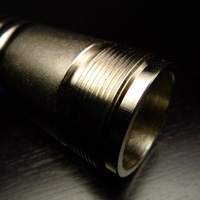 Thread Quality & Machining
Thread fit is one thing that sets Prometheus apart. My threads adhere strictly to Unified Tread Standard (UNS) tolerances set by the American National Standards Institute (ANSI). This ensures reliable compatibility between production runs...and it's how you are supposed to make threads. Blue-Label lights feature a Class III thread fit. This is the most precision class and normally reserved for military and instrumentation applications. Ready-Made lights use a Class II thread fit. This is the most common class of fit and specified to ensure that parts are compatible without high percentage (costly) inspection.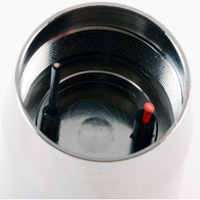 Strain Relief
You'll never see it unless you disassemble your light; however, high-temperature silicone sleeves protect the LED leads as they pass through the head. It protects the wire casing from being worn through from long term and/or intense vibration. This was implemented around January 2012, so only lights made after this date feature strain relief. I install these in any light that is returned for LED swaps or as part of the Blue-Label Lifetime Upgrade program.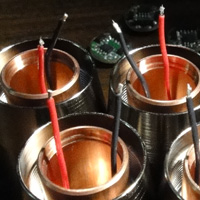 Mil-Spec Silver Plated Copper Stranded Wire (Teflon Coated)
This is pretty much as good as wire gets. Electrical resistance is incredibly low and the Teflon insulation resists abrasion and can withstand temperatures in excess of 300 degrees Fahrenheit. This wire meets the standards for MIL-W-16878/4. If it's not Certified to a MIL Standard, then it's not Mil-Spec. This 24 AWG wire is very thin but it is capable of carrying up to 13 Amps of current. "Standard" 24 AWG wire is only rated to carry 3.5 Amps. I said it was good right?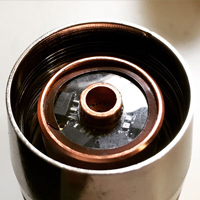 Driver Mounting Sleeve
The Icarus driver is secured by a custom designed wave spring and polycarbonate "window" to keep out dust. The sleeve acts as an electrical contact for power transmission and to act as a heat sink for the driver itself. The hollow shape and distance from the LED helps with thermal isolation. The positive battery terminal is made from solid copper and has a large contact surface to ensure maximum electrical conductivity. Blue-Label lights feature a C101 (99.9% pure) copper sleeve. Ready-Made lights use an EN plated 6061-T6 aluminum sleeve.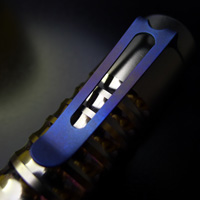 Titanium Pocket Clip
My pocket clip is made from ASTM Certified 6Al/4V titanium alloy. The hole at the top will pass two strands of 550 para cord. The bend in the tip of the clip is designed to increase grip, minimize the wear on your pocket, and avoid accidental snags. All Ti clips are manufactured from genuine ASTM Certified 6Al/4V (Grade 5) titanium. I'm the only maker on earth that uses Certified material, because I make no compromises. Certified Ti is 50% more expensive than generic. Don't be fooled by claims of "aerospace grade" materials...if it's not Certified, it's not aerospace grade.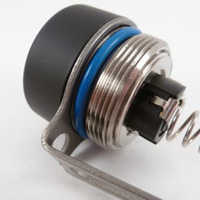 "Tool Free" Clip installation
It doesn't look like much but this tailcap is a tour-de-engineering. I won't bore you with all the details but my crowning achievement is "tool free" installation. The clip "pops" over the O-ring so you won't loose it accidentally. Unlike most lights, you don't need to remove the O-ring to take the clip on/off. When the clip is removed, the retaining shoulder slides into the body and disappears. Most clips are "screw-on" which looks cool if you use the clip, but if not, there are two ugly holes in the side of your light. If your clip ever looses tension, simply install it backwards and re-tension it.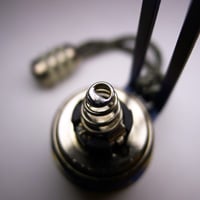 McClicky switch
Of course I use the most famous flashlight switch on earth. I tried every other kind of switch, and like most things, you get what you pay for. The McClicky is 5x the cost of other switches, but it's worth it. The McClicky is a "forward-type" clicky that allows momentary activation. The Alpha battery should always be changed through the head of the light. You should not open the tailcap unless you are replacing the switch or removing/installing the pocket clip. Removing the tailcap causes the compressed spring to rotate against the battery, putting undue and unnecessary stress on the switch spring which can lead to failure.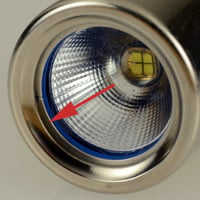 Primary Seal Ring (PSR)
The PSR was implemented in all lights starting in October 2012. The Alpha was pressure tested to 300 feet for 5 hours without the PSR...so it's not really necessary, but again, I accept no compromises. The security of the primary seal was one detail that did not completely meet my standards. So I went ahead and had these rings custom manufactured by Smalley Steel Ring. I probably should have applied for a patent for this sealing method, but there you go, everyone feel free to copy :)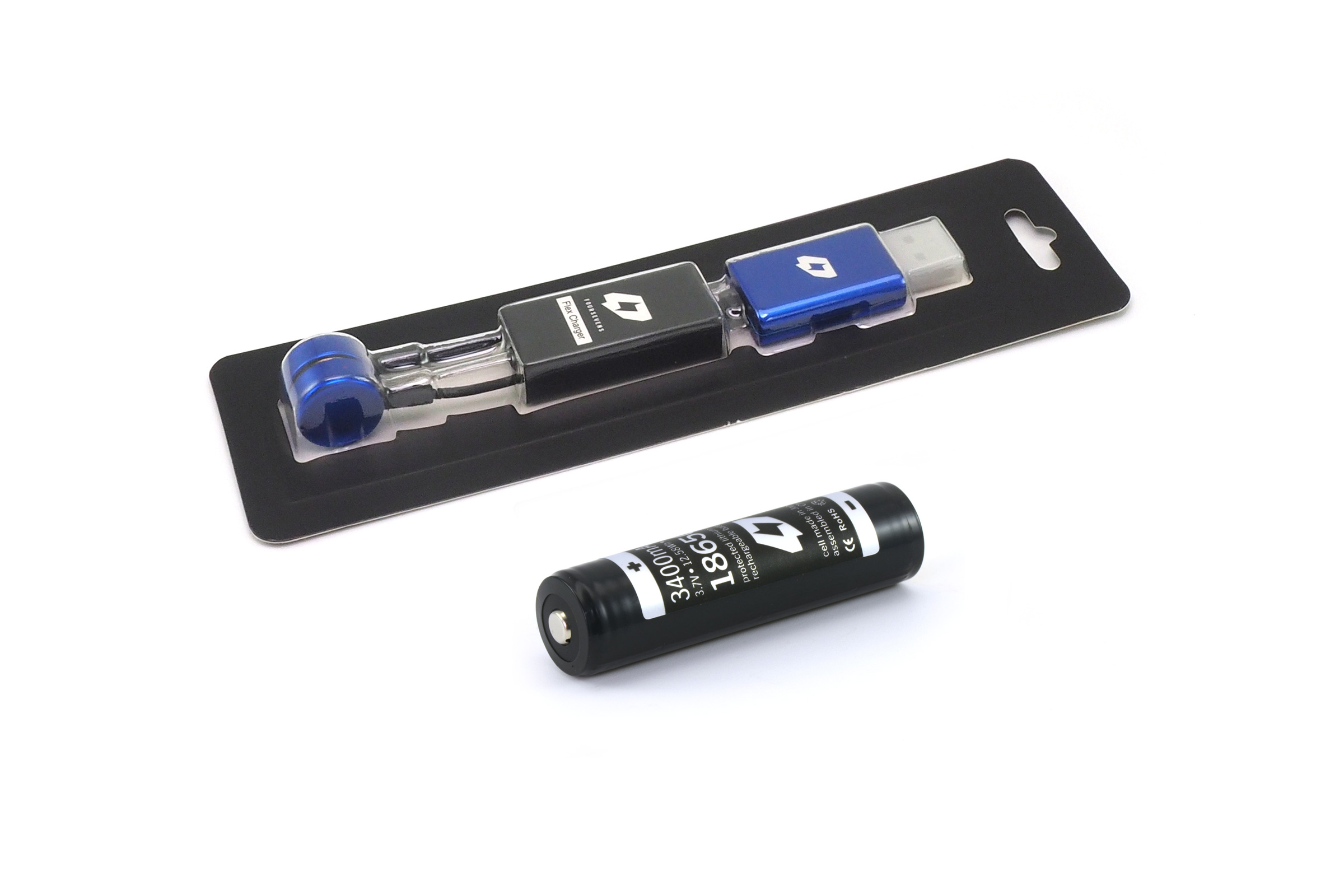 PACKAGE 1: APPRENTICE (+ $30.00)
Dominate the dark with the basic package: light + battery + charger
Alpha Series light
1x18650 Foursevens 3400mAh Li-Ion (Protected)
Battery Case
Foursevens USB Flex Charger (Lithium-ion and NiMH)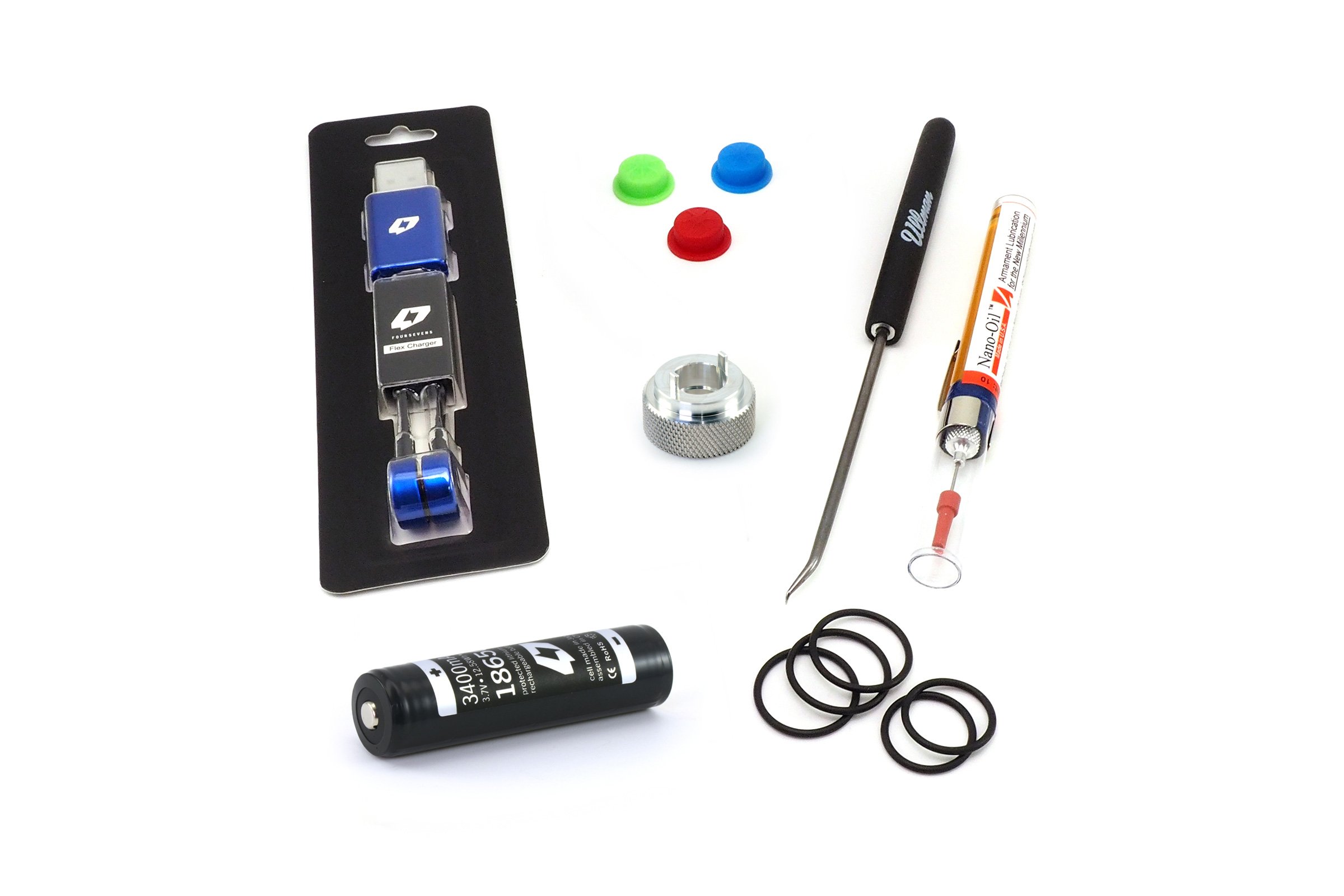 PACKAGE 1: JOURNEYMAN (+$65.00)
Maintain your Alpha like a pro and avoid buyer's remorse about your button color. Includes everything in the basic package, but you also get:
Maintenance kit (Nano-Oil + replacement o-rings)
O-ring removal tool with rubber grip
Three extra button colors of your choice
Switch Tool (Pronged tool to aid in removal of the switch and retaining ring. Machined in-house!)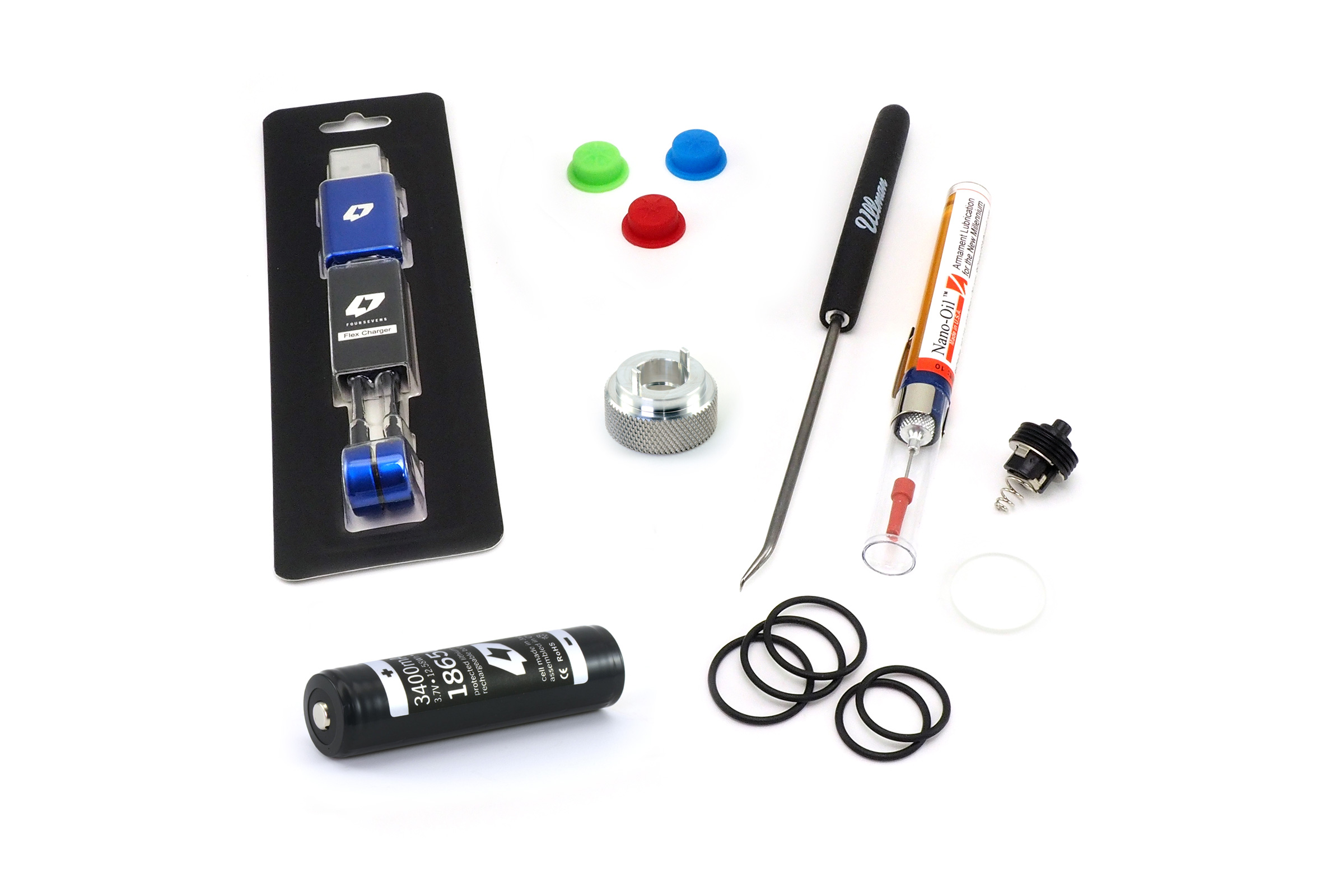 PACKAGE 3: MASTER PACKAGE (+$75.00)
The full boat. A good friend once told me, "two is one and one is none." He was right, don't get caught in the dark. You get everything above, but you also get:
Spare UCL window (glass lens)
Spare McClicky tailcap switch
LED Type

Buyer's Choice

battery type

18650 lithium-ion

Weight

8oz (No Battery)

Dimensions

1.2" x 5.75" (body dia. is 1")

Voltage Range

2.8V-4.2V

Beam Distance

110m
Brightness Levels

Fully User Programmable (Default is L/M/H)

Special Modes

Strobe, Beacon, SOS (added via programming)

Body Material

CP2 (Commercially Pure) Titanium

Window Glass

98% transmission UCL glass (2 side AR coated)

Water Resistance

IPX8 (100m)

Included Accessories

1cc Nano Oil + 2 O-rings

Where it's made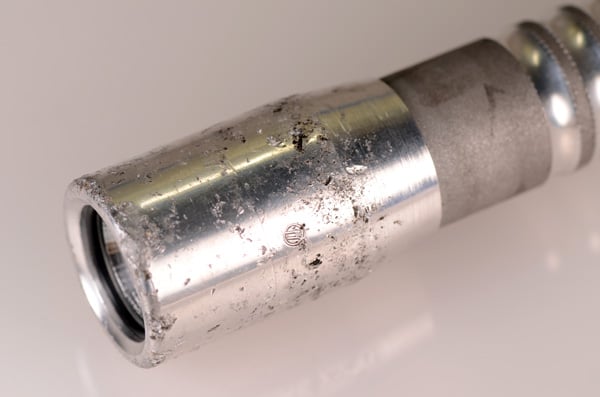 DROP PROOF? CHECK.
Back in 2012 I hosted a Candlepower Forums get-together at my shop in Mountain View. This was my first personal introduction to the CPF crowd so I wanted to give them something spicy to remember me by. I thought the opportunity to break one of my lights would be a good start. After 37 drops from up to 3m, the tailcap switch finally broke. I think the main take-way is: This light can take massive abuse. However, if that abuse is over the line...my lights are deliberately designed for easy repair. Putting in a new switch can be done completely without tools in under a minute.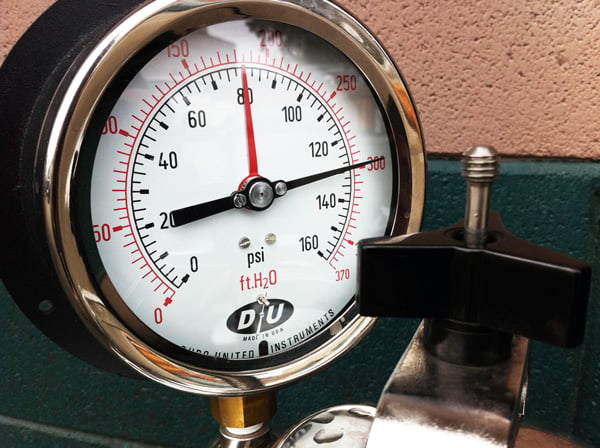 WATER PROOF? CHECK (AND THEN SOME).
When I initially designed this light I was hoping it would be water resistant. Most "high end" commercial flashlights are rated for maybe 30 feet if they are really hard core. I'm not aware of any custom light that is rated for more than "splash proof" or "brief immersion." I built this little pressure pot to test my lights. I started off with 10 feet, went to 30, went to 50, went to 100, went to 150...got bored...removed the safety over-pressure valve from the tank and ramped it up to 300 feet (130 psi). Three lights, 300 feet, 5 hours, no problems.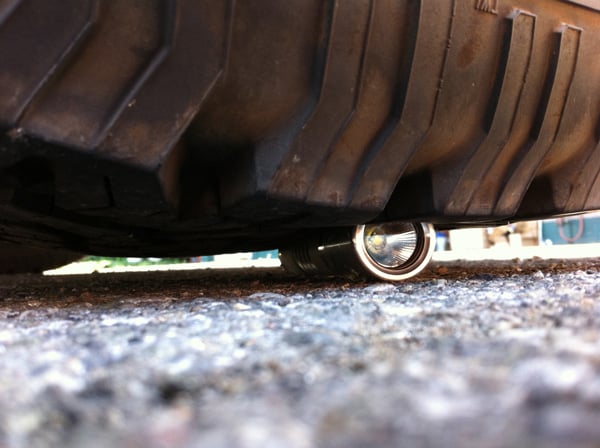 CRUSH PROOF? CHECK.
Okay, I'll admit, I really ran it over about 10 times. A friend was looking at the light and said, "This thing is a tank. It's really overbuilt. It doesn't need to be this beefy." I thought...really, what if it gets run over by a car? Would you want your light to be a pancake or just shrug it off and keep on going? I suppose you can guess my sensibilities fall into the latter camp. So I ran an Alpha over with my 4Runner, repeatedly. In the photo below the entire tire is off the ground, only being supported by the Alpha.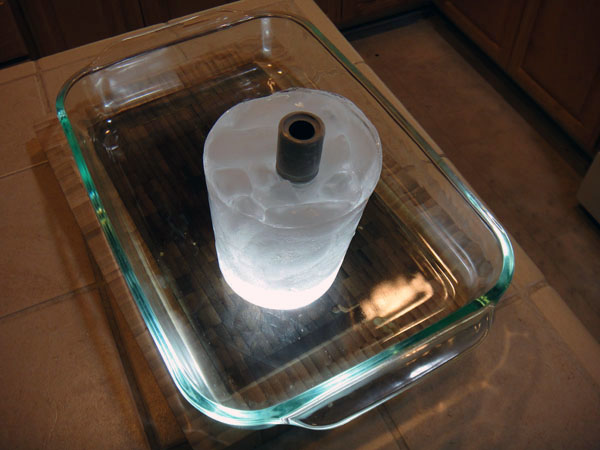 FREEZE PROOF? CHECK.
In a quest to find of if my light was "everything-proof" I thought it would be fun to freeze it overnight, turn the light on high until it melted itself free from the block, and inspect. It took 30 minutes for the light to melt itself loose. No water intrusion. The only problem I has was that it had been so long since I lived somewhere cold...I forgot that my hand would immediately freeze to the surface of the light. Ouch. Anecdotally, I was up in Sun Valley, Idaho and left two lights in the car overnight by accident. Big deal right? Well, the overnight low was about -7 degrees Fahrenheit. That's cold, real cold. Both lights fired up without a sign that they knew the difference.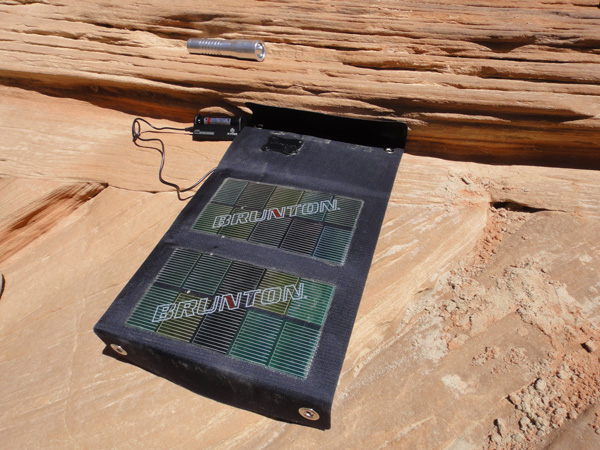 SAND, WIND, DUST & NO WALL OUTLET PROOF? CHECK.
Rechargeable flashlights are great, but what do you do when you can't plug it in? Go solar. I got this little solar charger (with USB port) just for this trip. I took two lights and two batteries. I'd put a battery on the charger every morning and it would be charged by mid-day. How easy is that? The floor of this particular river valley was covered in the finest sand I've ever seen in my life. Powder. Like the sand you'd see in an hourglass. It got into literally EVERYTHING...except my lights. I used the Alpha with (near) total disregard for cleanliness. We camped in a shallow cave for several nights and I jammed the tail of the light into the sand and bounced the beam off the ceiling of the cave, illuminating the entire thing. Other than being cool, this made the Alpha very, very sandy. I had to swap the battery each day which meant repeatedly exposing the light to contamination. As long as you are careful not to get stuff inside the light while it's open, the head/body seal is self-cleaning. Just wipe away any gunk that is pushed out while opening the light and you should be good to go.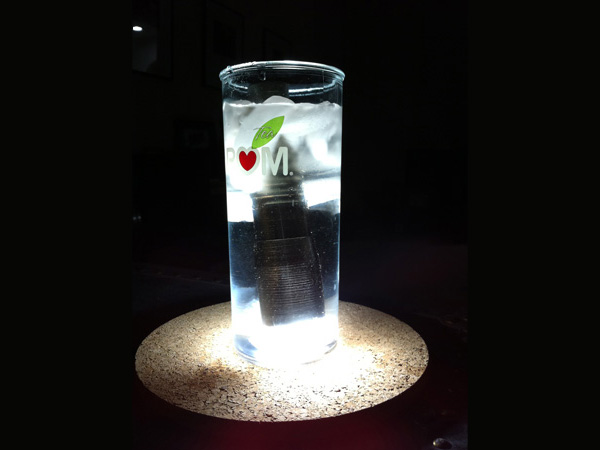 OPERATE WHILE SUBMERGED? CHECK.
One thing that will test the seal quality of a light is being heated and cooled while submerged. As the light gets hot, the air inside the body expands and may be forced past a poor seal by positive pressure. Then, when the light is turned off, it begins to rapidly cool. If any air has escaped, the inside of the body will become a vacuum and may actively suck water into the light...if the seal is insufficient. You can be pretty sure that the O-rings in the tailcap and head will resist this type of pressure change, but the lens seal is extremely vulnerable. The easiest way to test the lens seal is in a glass of water. Using ice speeds the change in pressure. I've done this at least a dozen times and have never had a failure...nor do I expect one :)
THE FULLY PROGRAMMABLE ICARUS DRIVER LETS YOU DO YOU.
Launched in 2015, Icarus was in development for over 2 years. It's simple, powerful, full of features even the most demanding flashlight enthusiasts will appreciate. A maximum regulated current of 3.4 Amps delivers (usable) class-leading power and an advanced software platform lets you make Icarus a reflection of your unique preferences.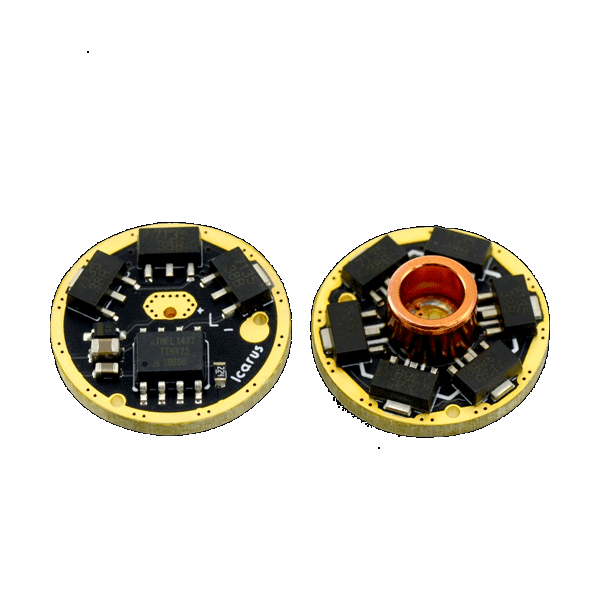 Direct Thermal Path MCPCB
DTP (Direct Thermal Path) was pioneered on kitchen tables by individual flashlight makers and modders. Industry finally took notice and developed a commercial solution to solder an LED directly to the copper base, without an intermediate layer. Enter SinkPad. I was the first maker/manufacturer on the market to adopt manufactured DTP LED boards and I've never looked back. Today, DTP is the de facto standard for high performance lights.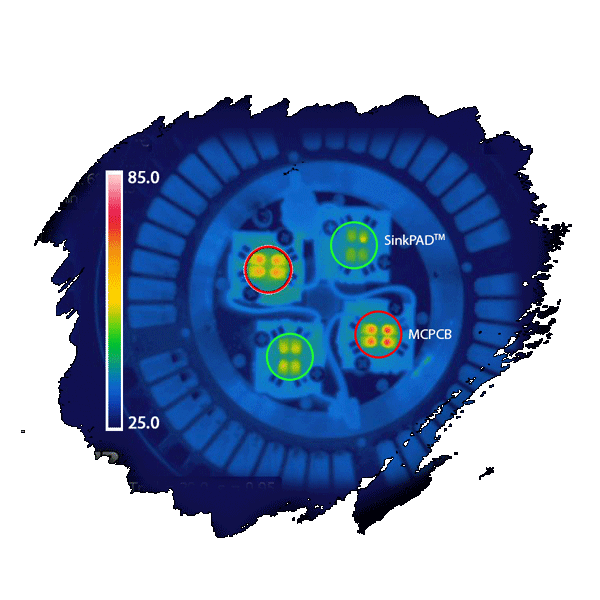 Thermal Pad: Panasonic PGS
I'm always pushing the limits and Alpha/Delta lights the the ONLY lights in the world using graphite thermal pads. Don't worry, like most things we pioneer, other people will catch on. The thermal interface (normally paste or tape) between the LED board and the flashlight is a bottleneck for heat. PGS has 6x the thermal conductivity of copper (one of the most thermally conductive metals) and is effectively invisible in the thermal path. This maximizes heat transfer away from the LED, allowing it to operate at maximum power for longer periods of time without causing damage to the LED.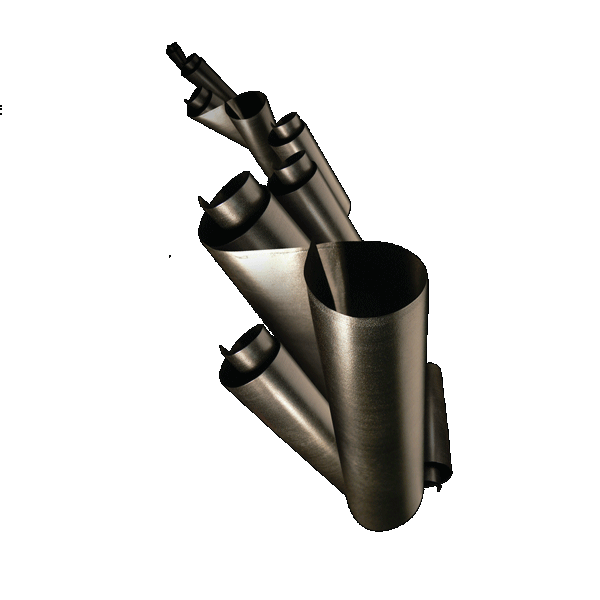 solid 1-piece head
The Alpha is unique in its dedication to thermal engineering. The solid head is designed to get heat out of the LED as quickly as possible. Most flashlights mount the LED on a screw-in subassembly called a "pill" in industry terms. This is easy to manufacture and assemble, but that means the heat must pass through a threaded connection to enter the head of the light and pass to the environment. It's a lot harder to assemble an Alpha, but sometimes the hard way is the best way. The solid head also creates a massively strong light. An Alpha will take any beating you can throw at it. No other light is this crush resistant.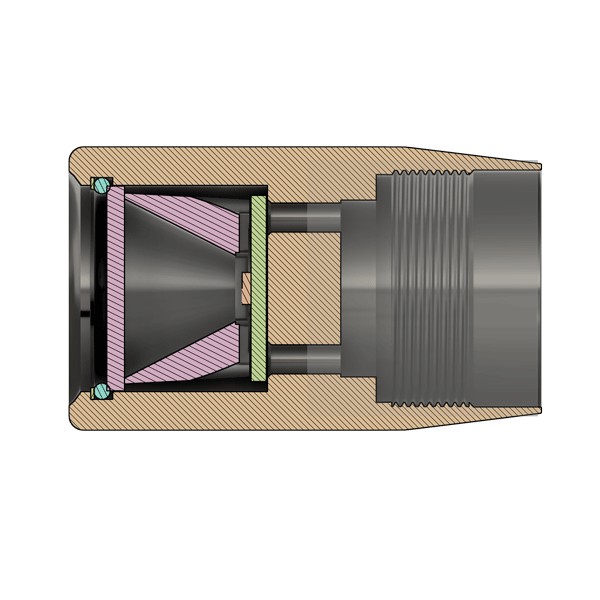 You may also like