Beta Flex Arm v2 Accessory
Put light where you need it, when you need it! The Flex Arm + Beta QRv2 makes a task light that is mobile, positionable, and cord free.
Product Overview
The Beta Flex Arm lets you get more out of your Beta QRv2 Flashlight. The arm snaps into the QR receptacle on the back of your Beta light and a strong Neodymium magnet holds the arm to any magnetic surface. The magnet is covered by a rubber boot to prevent marring delicate surfaces, and prevent rotation when mounted on a vertical surface. I keep one in my car for roadside emergencies and we also use them around the shop for mobile task lighting. I even have one inside our laser cabinet so we can set up work more easily.
Product Details
Loc-Line (the black & orange segments) are commonly used in machine tool coolant systems and other industrial applications. The material is chemically resistant to petroleum products, coolants, and most common chemicals. It's quite expensive but it will take whatever you can throw at it.
The brass connector is machined in house and features a small o-ring that helps keep the entire light from twisting when you activate the head. If the main o-ring on your actual light is not well maintained (lubricated) then you may need to use two hands to activate the light.
I always have the Beta on my keys and I keep a Flex Arm in my glove box just in case I need to look under the hood or change a tire in the dark. I also keep a Beta, pack of rechargeable batteries, and Flex Arm in my tool bag at home.
We use a number of Flex Arms around the shop as mobile task lighting, or even fixed to different tools that didn't come with lights. If you use rechargeable batteries (I know you do) then you've got a task light that is mobile, positionable, and cord free! Yep, awesome.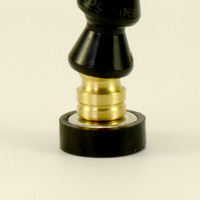 Cup magnet + rubber boot
A cup magnet prevents debris from collecting on the back side of the magnet because only one side is magnetic. The rubber boot prevents marring of delicate surfaces. It does reduce the magnetic force slightly. The boot can be removed for firmer attachment. If magnetic debris gets stuck to the boot you can just remove it and clean it.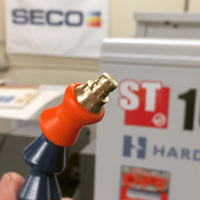 Brass fittings:
The two brass fittings that attach the Beta and the magnet are machined in house...and adds a touch of class ;) You can use the Flex Arm with any Beta QRv2 flashlight.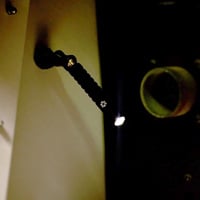 Loc Line:
Loc Line segments can be separated and reattached to make the Beta Flex Arm as long (or short) as you need. Our marking laser has a light installed with only two Loc Line segments because of the small interior space inside the laser cabinet.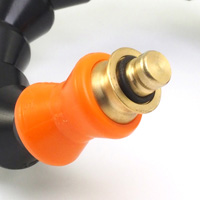 Friction O-ring
A small o-ring rides in a face groove to provide friction against the twisting action required to activate the Beta. Be sure the threads and o-ring on your Beta are properly lubricated to the twisting action isn't too stiff; otherwise you'll have to operate the light with two hands.
included with your Beta QRv2
Beta Flex Arm
Rubber Magnet Cover
Usage notes:
You may need to be smart when positioning the Flex Arm so that isn't easily dislodged. That's okay though, 'cause you are smart and you got this. The further the light is from the magnetic base, the more of a lever you are creating. Keep things compact. Brass and copper lights are much heavier than the aluminum (black and nickel) Betas. Be advised. If you need to reduce the length of the arm, no problem! You can break a joint by bending the segments. Snapping them back together is tough, but it helps if you can push against a surface.
Arm Length

7"

Arm Material

Acetal Copolymer
Connector Material

C360 Brass

Magnet

Neodymium Grade 42 (25 lbs.)

Where it's Made
The ultimate QR (Quick Release)
Simply push to engage and pull to disengage. The mechanism is engineered to provide 10 lbs. of holding force. Combine this with the snag-free profile of the brass component and accidental disengagement is "virtually" impossible, and engagement is verified by a solid "click" every time! The spring is user-replaceable if that is ever required.
304 Stainless steel cold-forged split rings replace the original carbon steel "round" rings. Carbon steel has better spring tension, but the coating wears off and then they rust.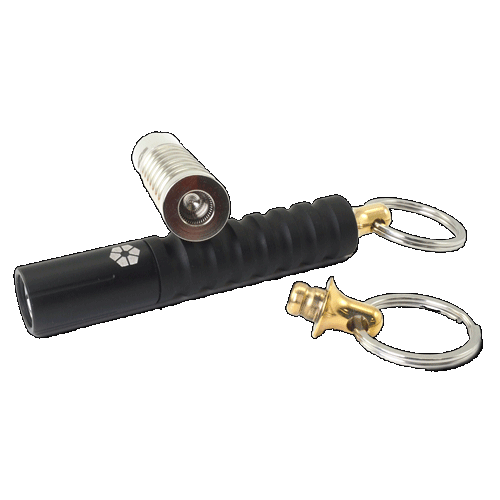 High CRI (Color Rendering Index)
A "High CRI" LED is designed specifically to work in concert with the human visual system, providing the maximum possible color accuracy when compared to sunlight. Daylight scores a perfect 100. Once you experience High-CRI you won't go back. Seeing colors is the human superpower. Using low CRI lights is like carrying a chunk of Kryptonite in your pocket.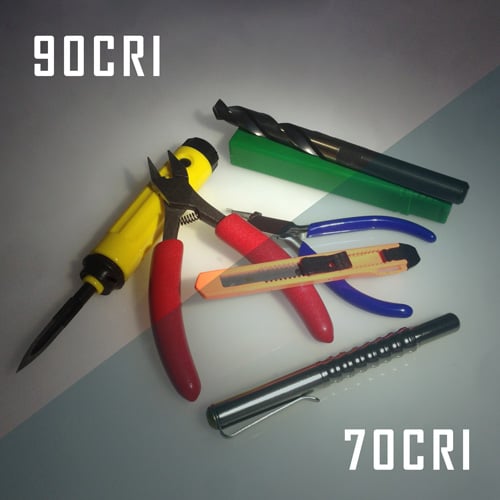 beta your way
The Beta QRv2 is part of our "QR Compatible" ecosystem. We offer a variety of accessories that take advantage of the QR like our pocket clips, Kappa QR Keychains, and the Beta Flex Arm; a flexible magnetic mount that lets you and your Beta go hands-free.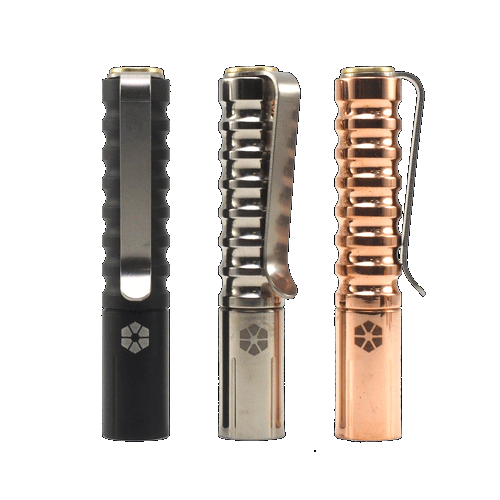 You may also like