Delta Flashlight (Solid Copper)
Blue Label lights are assembled to order and may take up to two weeks to ship.
Discounts cannot be applied to this item
Product Overview
---
| | | | | | |
| --- | --- | --- | --- | --- | --- |
| 1x18350 | Buyer's Choice | 850-1100 | .5 | 0.5 hr | 90 hr |
---
The Delta is our newest light and boasts more power than an Alpha (thanks to the triple LED) in a smaller package. I held off making an 18350 triple for years. It became the format de jour and seemed like the segmet was too crowded. However, you dear customers are persistent and I caved. Of course I couldn't just make "another" 18350 light, so I created the Delta to set the standard for the category.
Battery type is IMR 18350 ONLY. Standard lithium ion batteries (non-IMR chemistry) in any size CANNOT handle the 3.4A current drain. Using these batteries are DANGEROUS.
Product Details
Launched in 2018, I took my previous 7 years of flashlight design and manufacturing experience and crammed it into the Delta flashlight. It inherits everything that is legendary about the Alpha, and delivers it in a smaller EDC package.
I wanted to create something special, and I leaned heavily on engineering (not fads) to accomplish that. The exposed fins on the solid copper pill transfer heat directly to your hand and the environment instead of trapping it inside the light. This also allowed me to use 6/4 titanium (on titanium lights) without paying the performance penalty characterized by the poor thermal conductivity of titanium alloy. The Delta was also our first light to use a graphite thermal pad that is now standard on all Alphas and Deltas. User swappable optics also makes the Delta much more customizable.
You can't have everything though. The 18350 battery is 1/3 the capacity of the Alpha (18650) battery. You get the same performance but at the expense of reduced run time. However, if you select the Journeyman or Master package, you get two batteries so you aren't left in the dark. The Delta is a pocketable EDC light where the Alpha is a (just) pocketable workhorse.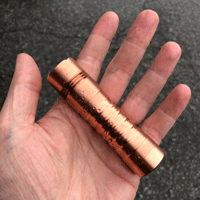 Ergonomics
Deltas are slightly longer than many other 18350 lights and this is 100% intentional. The length of the Delta is "right-size," meaning it's intended to fully fill the average hand. This means you can properly access the tailcap button, and you won't be "masking" the front of the light and blocking the beam when you operate the light...which happens with lights that are too short.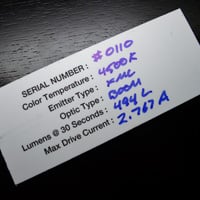 Transparency
I tell you everything there is to know about my lights. I hate it when companies are vague. To me this says they are hiding deficiencies or don't know what they are doing. I'm a researcher and a fiend for data. I want to know as much about a product as I can, before I buy it. My "secret sauce" is solid engineering, the best components I can get, and old fashioned hard work. That's also why my lights are expensive. I show you everything so you can see that I haven't cut any corners. Each Blue-Label light comes with it's own report card so you know exactly what you are spending your money on. Ready-Made lights do not.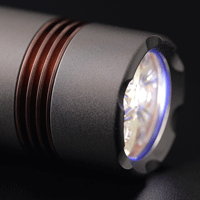 Fluorosilcone O-rings
Blue-Label lights feature blue fluorosilicone o-rings that are 10x more expensive that the industry standard Nitrile o-rings. Fluorosilicone is impervious to a wide variety of chemicals and has an unlimited shelf life, meaning they will never dry out and crack.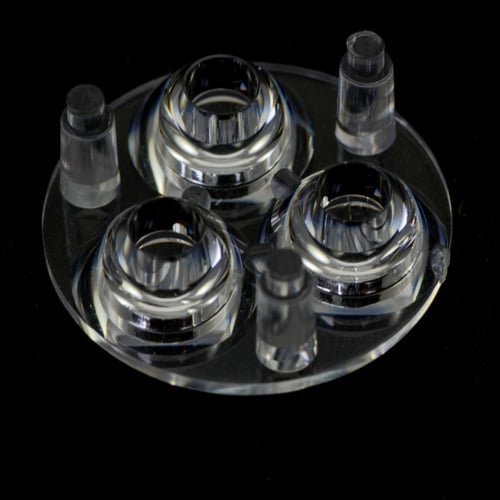 TIR Optics
TIR stands for Total Internal Reflection. These optics are extremely efficient at getting lumens out the front of the light. The Delta's TIR optics are user swappable so you can customize the light to suit your mission.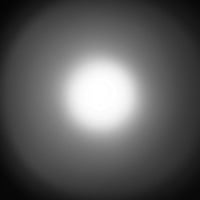 Beam Profile
Carclo TIR optics provide very smooth beam profiles that work well with a range of LEDs. TIR tends to produce more separation between the spot and spill than traditional reflectors. My personal choice is the Medium angle optic.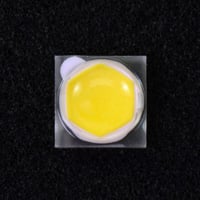 Premium LEDs
This is the most common place for flashlight manufacturers to skimp, but for me, this is where I spend most of my money. I only purchase LED's from a authorized US dealers or direct from the manufacturer. No grey-market or sketchy imports. I specify exact bins and I want to be absolutely sure that's what I'm getting. If you aren't buying direct there is no way to know what you're buying.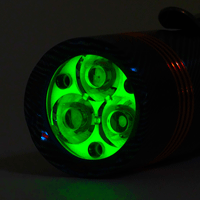 Glow Board
You may choose to include a glow insert around the LEDs. This insert is made from the highest quality glow material (strontium aluminate) and is manufactured in-house via laser cutting and manual machining. It's bright enough to be used as it's own light source for several minutes (in total darkness) after being charged by running the light on 100% power for a few seconds. It also acts as a locator so you can find your light in the dark.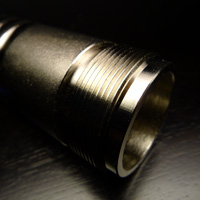 Thread Quality & Machining
Thread fit is one thing that sets Prometheus apart. My threads adhere strictly to Unified Tread Standard (UNS) tolerances set by the American National Standards Institute (ANSI). This ensures reliable compatibility between production runs...and it's how you are supposed to make threads. Blue-Label lights feature a Class III thread fit. This is the most precision class and normally reserved for military and instrumentation applications. Ready-Made lights use a Class II thread fit. This is the most common class of fit and specified to ensure that parts are compatible without high percentage (costly) inspection.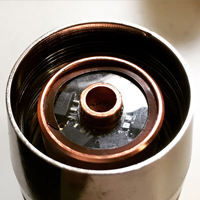 Driver Mount
The Icarus driver is secured by a custom designed wave spring and polycarbonate "window" to keep out dust. The sleeve acts as an electrical contact for power transmission and to act as a heat sink for the driver itself. The hollow shape and distance from the LED helps with thermal isolation. The positive battery terminal is made from solid copper and has a large contact surface to ensure maximum electrical conductivity.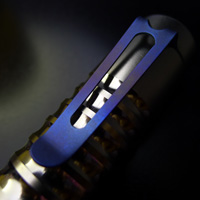 Titanium Pocket Clip
My pocket clip is made from ASTM Certified 6Al/4V titanium alloy. The hole at the top will pass two strands of 550 para cord. The bend in the tip of the clip is designed to increase grip, minimize the wear on your pocket, and avoid accidental snags. All Ti clips are manufactured from genuine ASTM Certified 6Al/4V (Grade 5) titanium. I'm the only maker on earth that uses Certified material, because I make no compromises. Certified Ti is 50% more expensive than generic. Don't be fooled by claims of "aerospace grade" materials...if it's not Certified, it's not aerospace grade.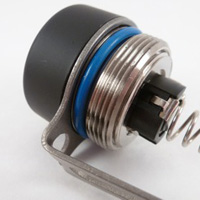 "Tool Free" Clip installation
It doesn't look like much but this tailcap is a tour-de-engineering. I won't bore you with all the details but my crowning achievement is "tool free" installation. The clip "pops" over the O-ring so you won't loose it accidentally. Unlike most lights, you don't need to remove the O-ring to take the clip on/off. When the clip is removed, the retaining shoulder slides into the body and disappears. Most clips are "screw-on" which looks cool if you use the clip, but if not, there are two ugly holes in the side of your light. If your clip ever looses tension, simply install it backwards and re-tension it.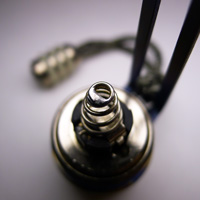 McClicky switch
Of course I use the most famous flashlight switch on earth. I tried every other kind of switch, and like most things, you get what you pay for. The McClicky is 5x the cost of other switches, but it's worth it. The McClicky is a "forward-type" clicky that allows momentary activation. The battery should always be changed through the head of the light. You should not open the tailcap unless you are replacing the switch or removing/installing the pocket clip. Removing the tailcap causes the compressed spring to rotate against the battery, putting undue and unnecessary stress on the switch spring which can lead to failure.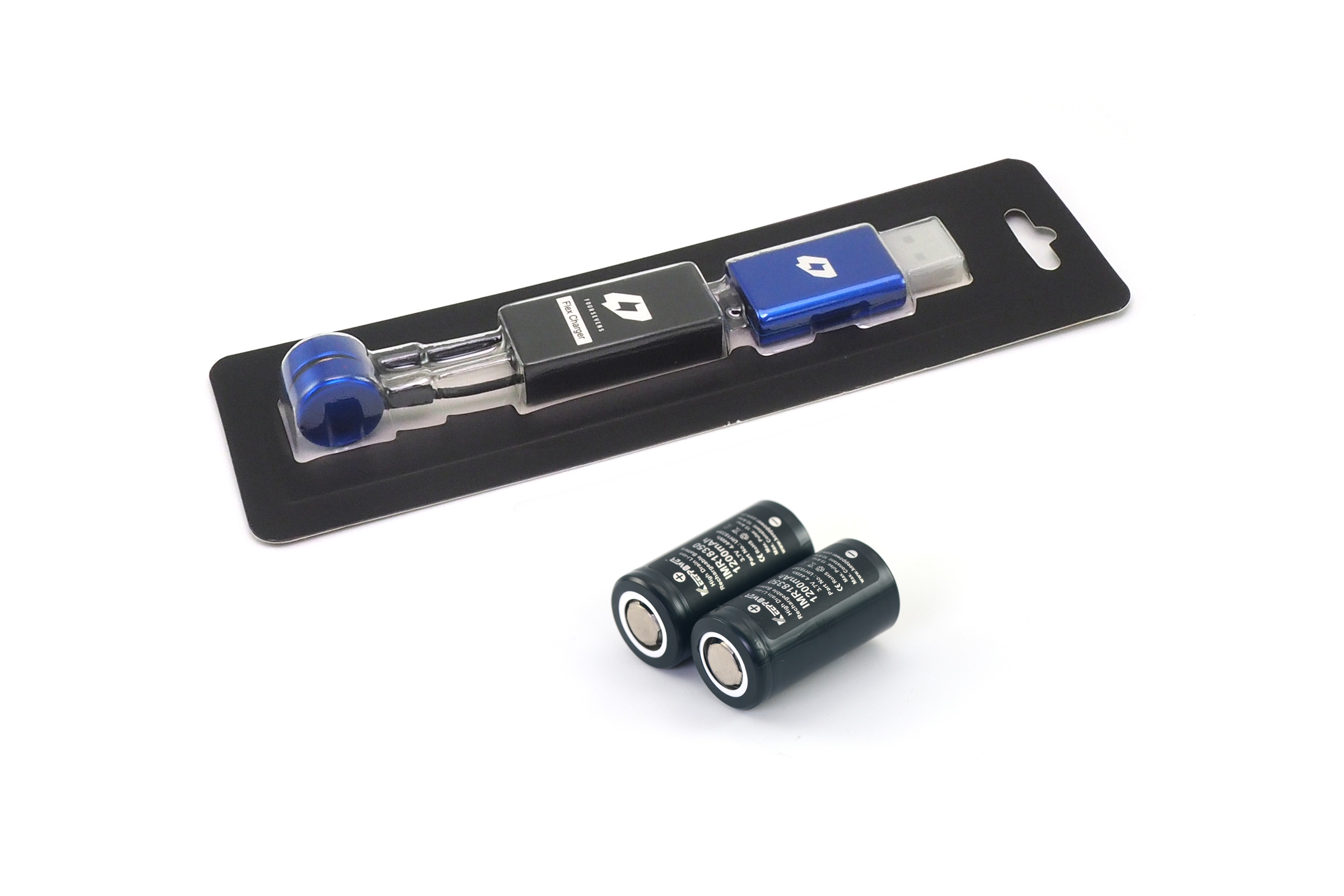 PACKAGE 1: APPRENTICE (+ $30.00)
Dominate the dark with the basic package: light + battery + charger
Delta Series light
2x18350 Foursevens 3400mAh Li-Ion (Protected)
Battery Case
Foursevens USB Flex Charger (Lithium-ion and NiMH)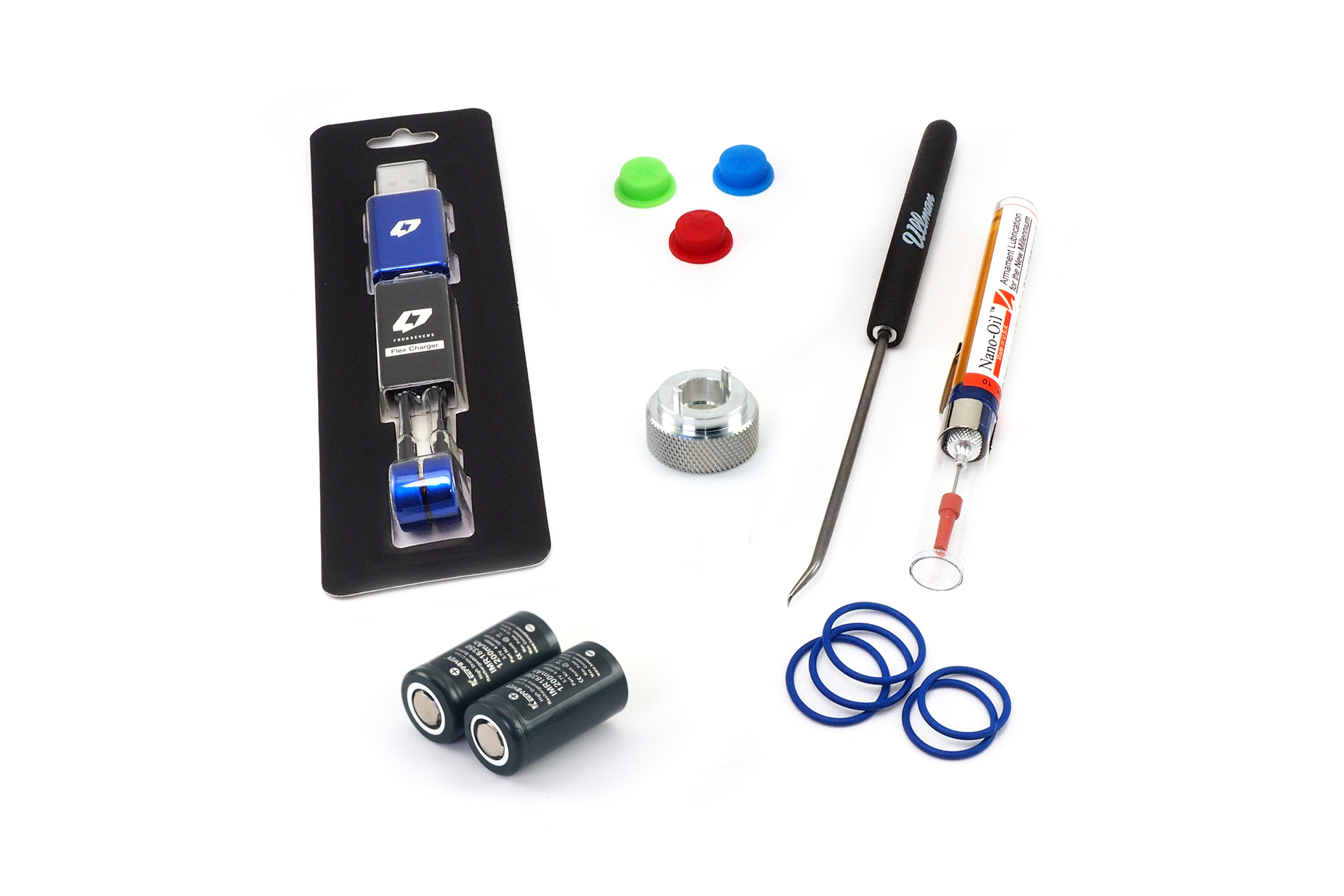 PACKAGE 1: JOURNEYMAN (+$65.00)
Maintain your Delta like a pro and avoid buyer's remorse about your button color. Includes everything in the basic package, but you also get:
Maintenance kit (Nano-Oil + replacement o-rings)
O-ring removal tool with rubber grip
Three extra button colors of your choice
Switch Tool (Pronged tool to aid in removal of the switch and retaining ring. Machined in-house!)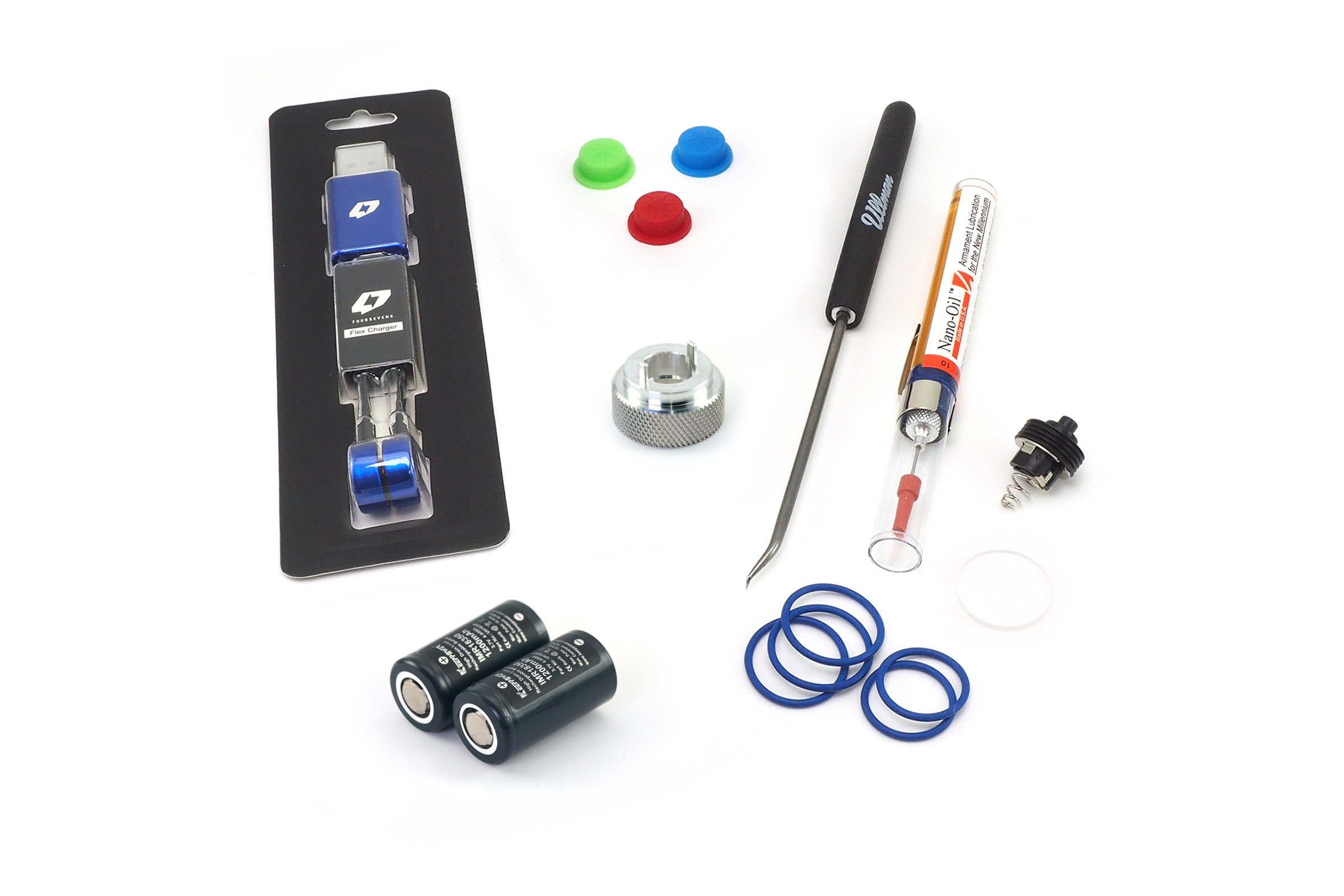 PACKAGE 3: MASTER PACKAGE (+$75.00)
The full boat. A good friend once told me, "two is one and one is none." He was right, don't get caught in the dark. You get everything above, but you also get:
Spare UCL window (glass lens)
Spare McClicky tailcap switch
LED Type

Buyer's Choice

battery type

18350 lithium-ion (IMR Chemistry)

Weight

Dimensions

1.0" x 3.75"

Voltage Range

2.8V-4.2V

Beam Distance

~100m (depends on LED and optic)
Brightness Levels

Fully User Programmable (Default is L/M/H)

Special Modes

Strobe, Beacon, SOS (added via programming)

Body Material

C145 Tellurium Copper

Pill Material

C145 Tellurium Copper

Window Glass

98% transmission UCL glass (2 side AR coated)

Water Resistance

IPX8 (10m)

Where it's made
solid copper pill
The massive copper pill and exposed cooling fins aren't for show, they provide unparalleled thermal management in an 18350 platform. This design also allows us to use any body material without any compromise to thermal performance. It also means Deltas have the best thermal performance of any 18350 light on the market.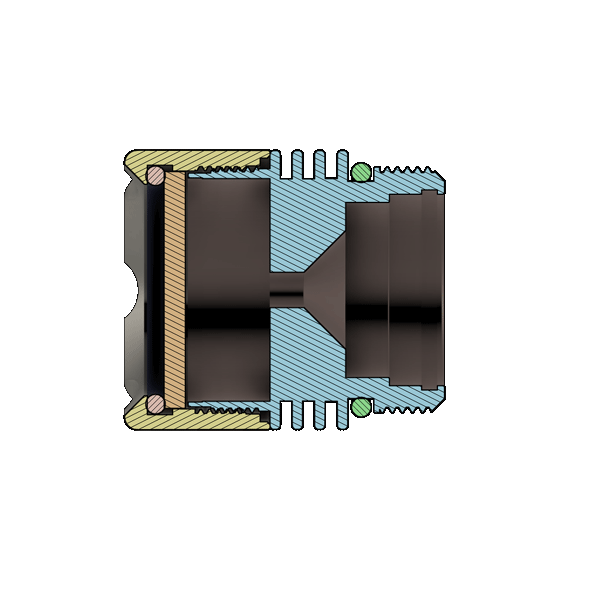 User swappable optics
The Delta is the first EDC light with user swappable optics and assembled with your choice of optic beam angle. The narrow optic will give you the most range and smallest hotspot. The wide optic will give broad flood of light over the entire beam. You can buy additional optics on the accessories page. Narrow: 26 Degrees beam angle
Medium: 33 Degrees beam angle
Wide: 46 Degrees beam angle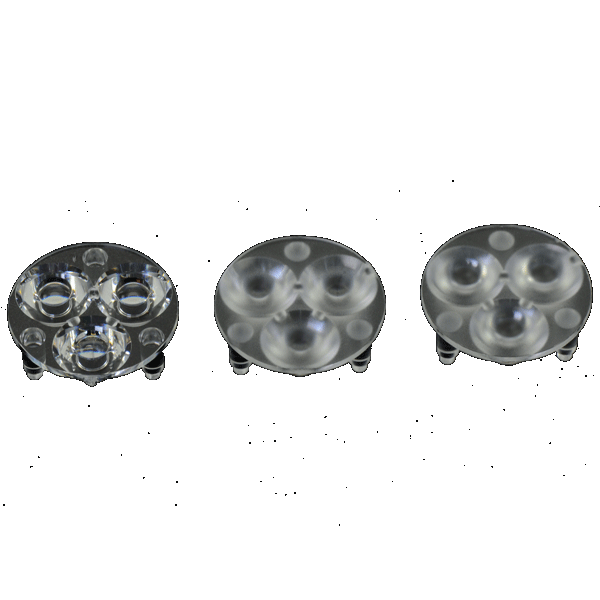 THE FULLY PROGRAMMABLE ICARUS DRIVER LETS YOU DO YOU.
Launched in 2015, Icarus was in development for over 2 years. It's simple, powerful, full of features even the most demanding flashlight enthusiasts will appreciate. A maximum regulated current of 3.4 Amps delivers (usable) class-leading power and an advanced software platform lets you make Icarus a reflection of your unique preferences.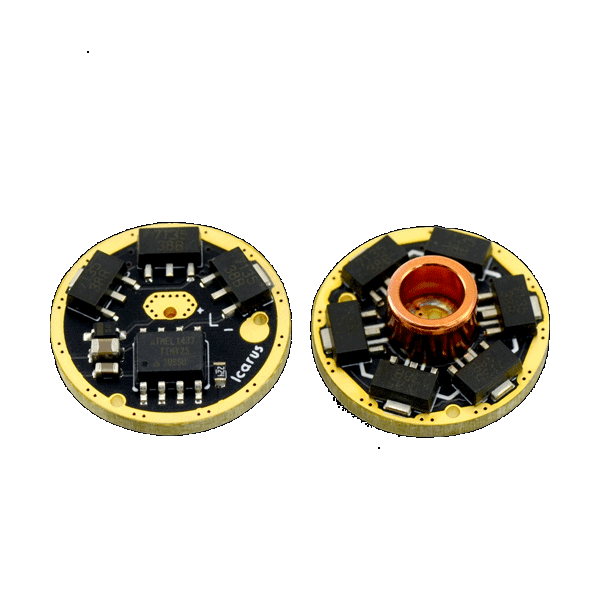 Direct Thermal Path MCPCB
DTP (Direct Thermal Path) was pioneered on kitchen tables by individual flashlight makers and modders. Industry finally took notice and developed a commercial solution to solder an LED directly to the copper base, without an intermediate layer. Enter SinkPad. I was the first maker/manufacturer on the market to adopt manufactured DTP LED boards and I've never looked back. Today, DTP is the de facto standard for high performance lights.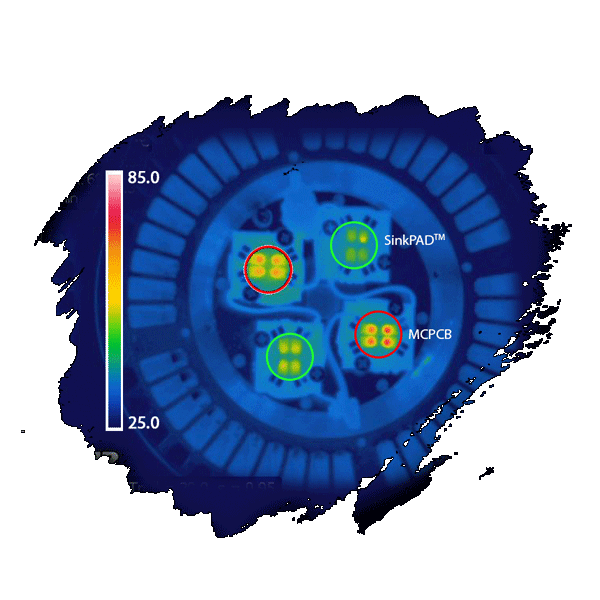 Thermal Pad: Panasonic PGS
I'm always pushing the limits and Alpha/Delta lights the the ONLY lights in the world using graphite thermal pads. Don't worry, like most things we pioneer, other people will catch on. The thermal interface (normally paste or tape) between the LED board and the flashlight is a bottleneck for heat. PGS has 6x the thermal conductivity of copper (one of the most thermally conductive metals) and is effectively invisible in the thermal path. This maximizes heat transfer away from the LED, allowing it to operate at maximum power for longer periods of time without causing damage to the LED.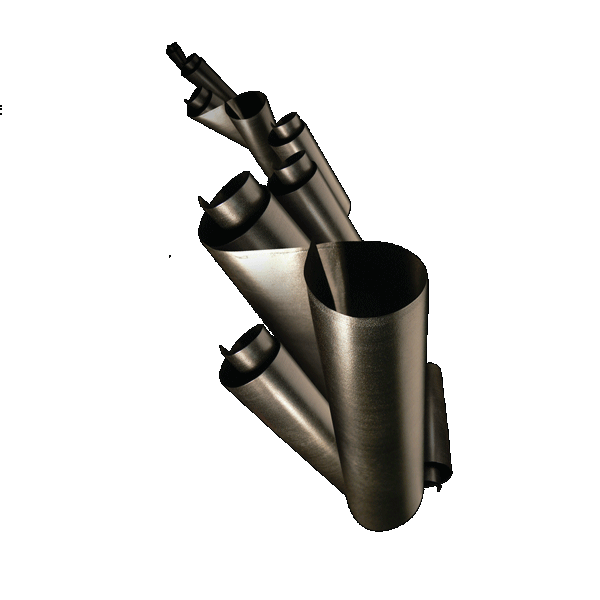 You may also like