Kappa QR Fuse3D
Limited Quantities Available Now!
This Kappa variant is 3D printed from Nylon 12, in-house on our Formlabs Fuse1 SLS printer. Nylon 12 is a tough UV stable thermoplastic and comes in any color you want, as long as it's dark grey ;)
Each set includes 2 male adapters so you can replace the original if it ever wears out. You can also purchase individual male or female connectors (with one each: 20mm and 25mm split ring).
Pull force is slightly less at 7 lbs vs. 10 lbs on the machined Kappas.
Discounts cannot be applied to this item
Product Overview
21st century manufacturing The Fuse3D Kappa variant takes full advantage of modern 3D printing to deliver a finished product equal to machined plastic, lower per-part cost, and has zero waste. Any unused powder can be recycled back into the machine.
The Fuse3D Kappa has slightly lower retention/insertion force (7lbs vs 10lbs) because the edges of the retaining groove are not as sharp, but I've been using these Kappas on my personal keychain for over a year and have not had any issues.
The mechanism is incredibly simple and robust. Spring failure is extremely rare, but if it does happen, it's not a sudden "unscheduled disassembly" like with plunger style keychains. If there is an issue with the spring, you'll see it coming and you can easily replace the spring at home. Typically a failure results in the Kappa becoming difficult to separate vs. coming apart unexpectedly. Like everything we make, it's designed for the long haul and easily repaired.
Product Details
I was constantly frustrated with my keychain and having do deal with the entire thing, when I just wanted to use part of it. Over the course of my life I tried all kinds of different quick release mechanisms and they were either ineffective or fell apart over time. The Kappa QR is a natural extenion of the Beta QRv2 flashlight mechanism. It allows you to reconfigure your keychain with only the items you need, or even combine other items into new configurations that are useful in the varity of situations that life throws at you.
The worst was my car keys swinging around, making noise, and constantly hitting my knee. No more I say! Now I just pop my car key off my keychain, put it into the ignition, and smile with the satisfaction only a finely cratfed and well designed object can bring.
7 lbs holding force
Not to much, not to little. The Kappa QR stays securely attached until you WANT it detached...unlike keychains with magnets that detach whenever they feel like it...and get stuck to everything.
simple push/pull mechanism
It doesn't get easier than this. Pull to disengage, push to engage.
snag free design
The Kappa QR is purposefully shaped to eliminate accidental disengagement from getting snagged. You can still snag the object that you attach to the Kappa...but that's not the Kappa's fault ;) 10lbs is enough to hold securely in all normal conditions, but it will also break away if you really do get hung up on something serious. This prevents damage to your person and property.
included with your purchase
Full Set
* Kappa QR (1 complete Kappa set and 1 extra male half)
* Split rings (2x 20mm and 2x25mm)
Female Only
* Kappa QR Female half with canted coil spring
*Split rings (1x 20mm and 1x25mm)
Male Only
* Kappa QR Male half
*Split rings (1x 20mm and 1x25mm)
Size

1.25" x .5" (without split rings)
weights & materials

Fuse3D Nylon 12 (7g)

where it's made
Proprietary canted coil spring
My canted-coil-springs are custom manufactured specifically for the Beta-QRv2 by a US company who specializes in canted coil springs...literally the only product they make. Normally these are found in connectors for military, medical, and aerospace applications.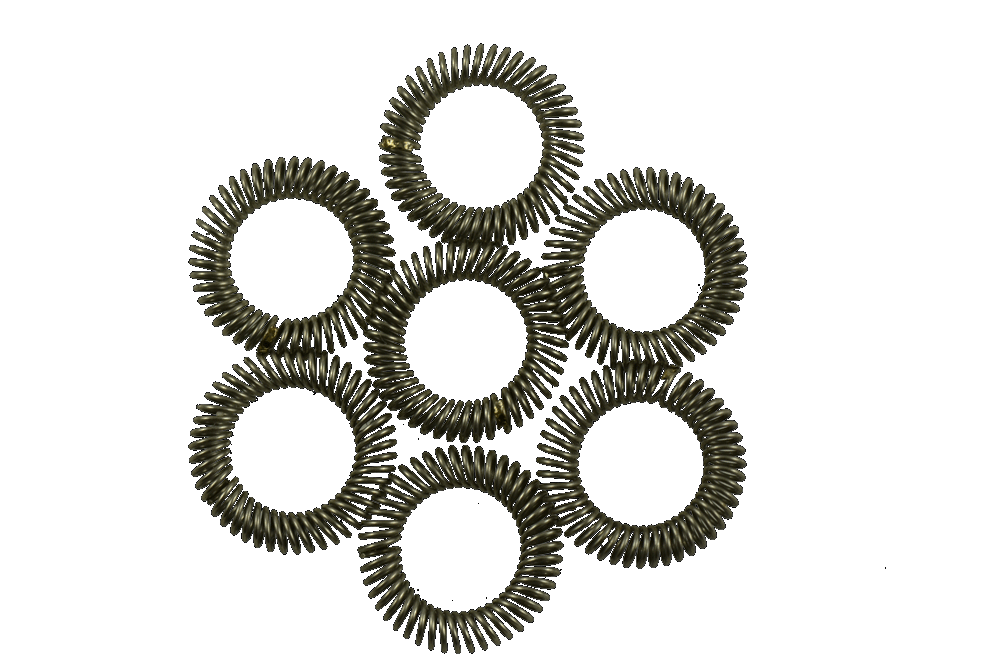 The ultimate QR (Quick Release)
Simply push to engage and pull to disengage. The mechanism is engineered to provide 7 lbs. of holding force. Combine this with the snag-free profile of the brass component and accidental disengagement is "virtually" impossible, and engagement is verified by a solid "click" every time! The spring is user-replaceable if that is ever required. 304 Stainless steel cold-forged split rings replace the original carbon steel "round" rings. Carbon steel has better spring tension, but the coating wears off and then they rust.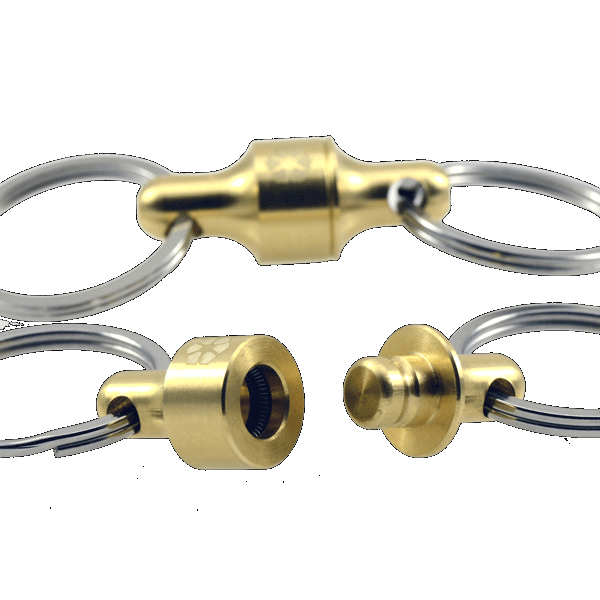 nesting design
This is a "hanging" shot. You can see how the QRs tend to nest with each other, making a smaller footprint. It also allows them to "flow" in our pocket without making a huge clump, but I highly recommend using one of our Kappa Pocket Hooks ;)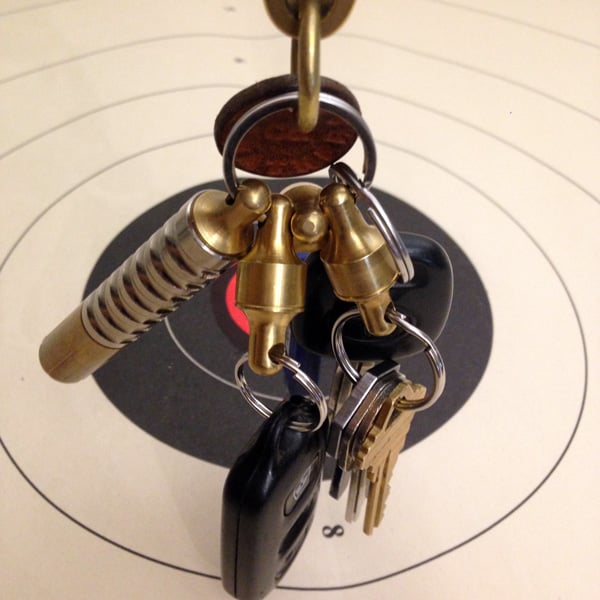 kappa your way
Incidentally, you can also connect the Beta QRv2 flashlight to any of the other items if you need a grab-and-go combo. Headed out on the town on the left. Walking the dog on the right :) When I lug my whole setup it's nice to have the Kappa Pocket Hook on my belt loop, but sometimes just a couple items in a pocket is the perfect choice.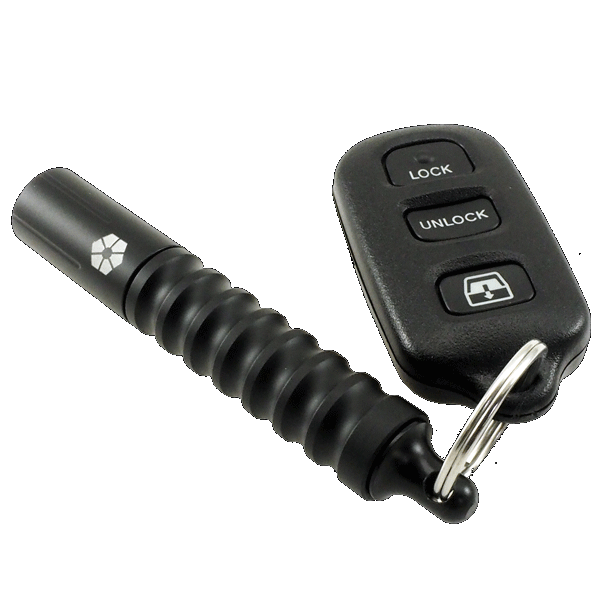 You may also like