Maelstrom MXS "Standby"
The Maelstrom is back, better, and standing by...the light that's ready even when you are not. The MXS lives on it's inductive charging base (no cables or ports on the light) and even turns on automatically when the power is interrupted. The MXS delivers between 5 and 1700 lumens with a Nichia 144A LED @ 4000K and 90+ CRI.
Product Overview
---
| | | | | | | |
| --- | --- | --- | --- | --- | --- | --- |
| 1x26650 | Nichia 144A | 1700 | 5 | 2.5 hr | 250 hr | 4000K @ 90+ |
---
Over a year in development, the MXS is the first all-new Foursevens light under the Prometheus banner. It's called the "Standby" for two very important reasons:
The Inductive charging base keeps your light ready to go at all times. No more wondering if your batteries are charged...they are...as long as you put it back on the base.
Standby Mode is activated when you put the light on the charging base. This means the light will automatically turn on (in the lowest setting) when a power outage occurs...and it will at some point. When the lights go out, the MXS is way ahead of you.
Product Details
In the past, Foursevens was known for leading the industry in performance and technology. Over the last decade the flashlight world has grown immensely, and the playing field is much more level than it used to be. Anyone can make a powerful light these days, and large companies with dozens of staff engineers and designers are working tirelessly to bring you the latest craze...but they often forget their users actually use their lights. That's the first thing on my mind, and the reason the MXS exists.
So what now? My plan for the new Foursevens is to double down on reliability, usability, and CRI. My background is in product design, which is about making sure engineering meets the needs of the human using the object. Things don't need to be newer, they need to be better.
If you know me, you know I hate lights with plug-in charging ports. Yes, it's convenient (sometimes) but most lights make some major sacrifices in reliability. Lights with charging ports are prone to mechanical failure and contamination by dust and water when the seals inevitably fail. I want my light to work when I need it most. So I set out to find a convenient charging solution that wasn't plagued by the problems of plug-in charging. Enter inductive charging; ports are so 2020.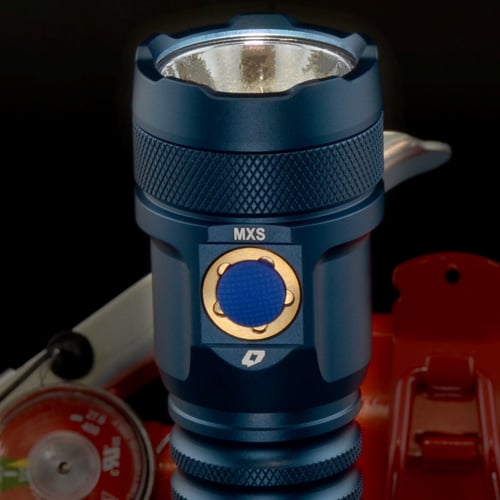 electronic side switch
I normally can't stand side switch lights, so I designed one that I love. The E-Switch enables an incredibly simple and effective UI. 4 well spaced ramping levels, direct access to Burst Mode from any setting including from 'off', and direct access to the lowest setting from off. Everything you need, nothing you don't.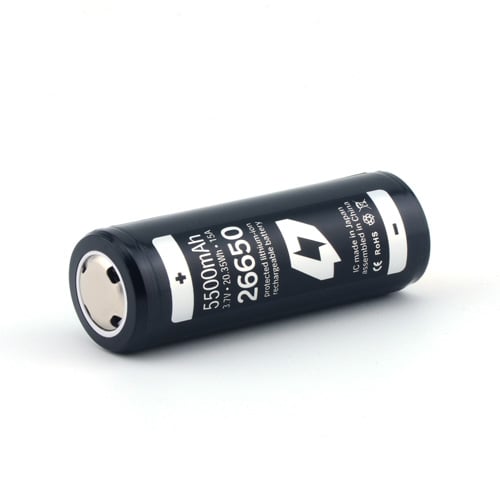 Standard 26650 Batteries
Many lights that feature "in light charging" use proprietary batteries. Not the MXS. Thorough a little cleverness and a real pain in the butt manufacturing step we've eliminated the need for special batteries. This means you can charge the battery in an external charger (not just inside the light), or use any 26650 battery you have access to (protected or unprotected), though we always recommend protected batteries like ours.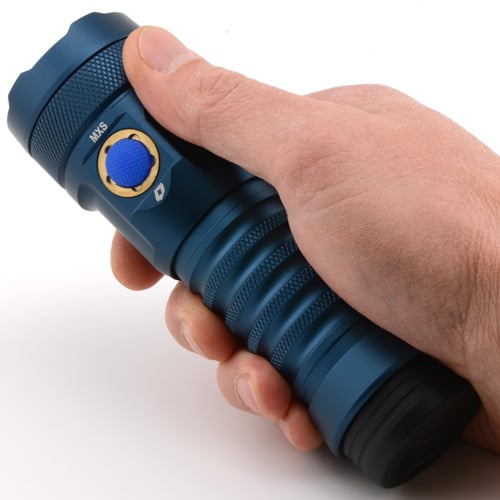 Ergonomics (for real)
You know what actually bugs me the most about side switch lights? I mean, other than turning them on by accident? Not being able to tell where the friggin' button is. I designed the asymmetrical grip to tell your brain where the switch is without looking at the light. It can be activated with either an overhand or underhand grip.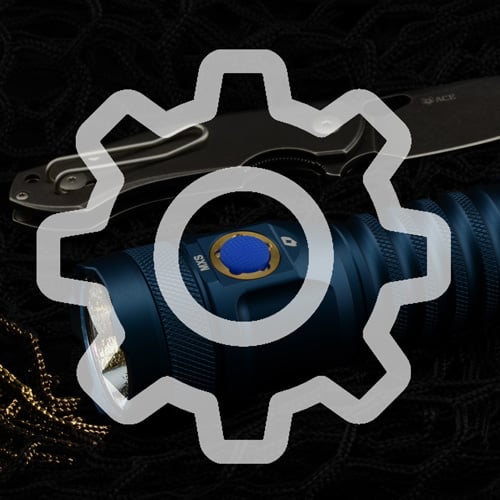 New side switch UI
Direct Access to Moonlight mode: From off, just long-press the side switch and the light will activate on this lowest setting. Never worry about what mode your light has remembered.
Burst Mode: A quick double click allows access to 100% output, no matter what level you are currently in. Another double click takes you back to the last mode you used.
Digital Bump Protection: All current Foursevens lights have this feature, but *this* light was born to tailstand. Bump protection eliminates accidental mode changes when you set the light down on its tail. Bump Protection was ported over from our Prometheus Icarus driver.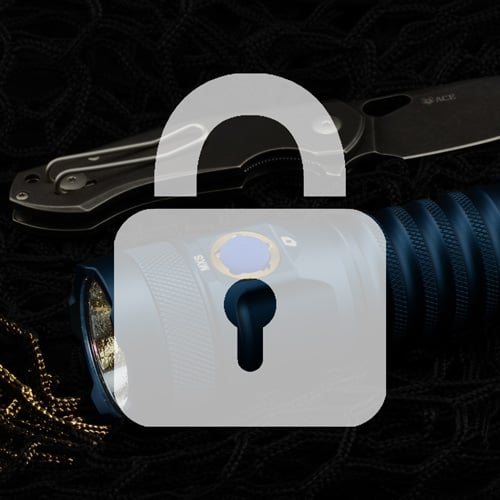 lockout mode
I know accidental activation bothers you as much it bothers me, so the MXS features a lockout mode. Just click the switch (rapidly) 5 times when the light is off. Two blinks confirms entering (or exiting) lockout mode. If the light is locked out and you try to activate the light, the indicator button turns on briefly to let you know...it's not you...it's lockout mode.
Included with your MXS
Maelstrom MXS Flashlight
2 Spare O-rings
Alternate switch buttons: Clear and Opaque Black (if you don't want the status light to show)
3D printed switch tool, made in-house
Inductive charging base
USB-A/C Charging Cable
Instruction Manual
Foursevens 26650 battery
The battery is accessed by unscrewing the head from the body. Please remove the plastic insulation from the battery before use. Unscrewing the tail cap (it's glued shut) will permanently damge the charging circuit. Don't do it.
The electronic switch enables an incredibly simple and intuitive user interface. Unlike a mechanical tail switch, the side switch can measure duration, not just on/off.
From off: Holding (long-press) the switch activates moonlight mode. Release the switch to accept the current output. Continue holding to ramp up through all modes.
From off: Clicking the switch turns the light on in the last mode used.
From on: Hold the switch and it will ramp up to high. If you are already in high, the light will ramp down. Release the switch to accept the current output.
Burst Mode: Just double click the switch for burst mode at any time (100% output). A second double click returns you to the last mode used.
Bump Protection = < 60ms off time = no mode change
Mode Memory = Last mode used (0.5 second on or off time)
Burst Mode Memory = No memory
Burst mode behavior = 30 seconds burst (100% output), ramp to high mode (60%) over next 30 seconds.
What's up with burst mode? : This feature is ported over from the flagship Prometheus Alpha Flashlights. It allows you to access maximum output at any time without scrolling through other modes. This also allows you to have maximum output when you need it, but conserve battery by using the standard high mode (60% output) for normal use.
Burst mode is activated with a very fast double click and does not have mode memory. Burst is active for 30 seconds and then ramps down to high mode over the following 30 seconds.
Moonlight: 5 lumens, 250 hrs (calculated)
Low: 50 lumens, 40 hrs (calculated)
Medium: 350 lumens, 6 hrs
High: 1000 lumens 2.5 hrs
Max/Burst 1700 lumens, 2.4 hrs (30 seconds burst, then ramps down to high)
LED Type

Nichia 144A (4000K / 90+ CRI)

battery type

Foursevens 26650 battery (5500mAh - 15A - protected Li-Ion)

Weight

Weight (with batteries): 11.4 oz

Dimensions

Length: 5.6 inches / Diameter: 1.8 inches

Voltage Range

2.8V-4.2V
Beam Distance

280m

Body Materials

Type-III hard-anodized 6061-T6 aluminum

Window Glass

Optical grade glass (2 side AR coated)

Water Resistance

IPX8 (1m)

Where it's Made
inductive charging
The charging base utilizes a standard USB-C connector. The tail is permanently sealed, eliminating the two biggest problems with in-light charging: mechanical failure and contamination. The light also has a green/red charge indicator inside the translucent button. When on the charging base, the indicator is illuminated all the time, so you can find it in the dark.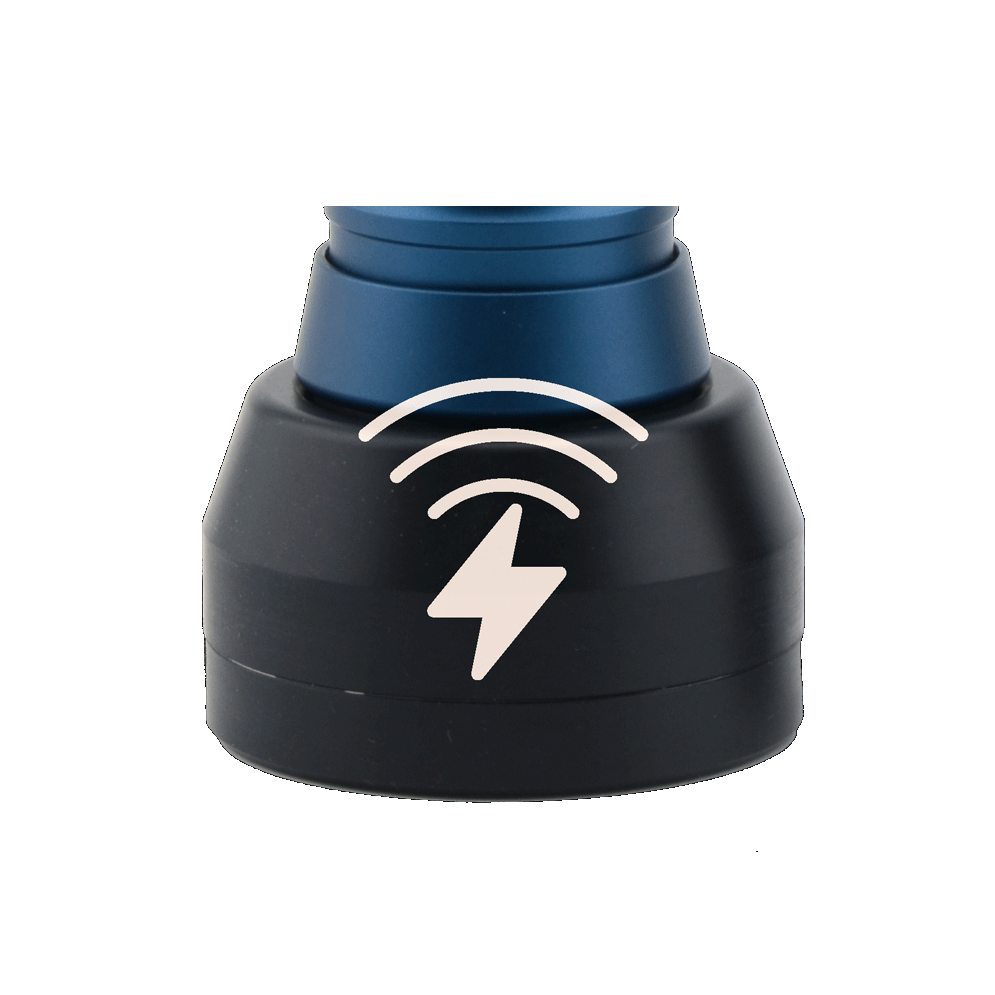 Standby Mode
The MXS detects a power interruption to the charging circuit: when the power goes out, the light turns on. This means (a) when the power goes out you can see and (b) you can find your flashlight with ease. It also turns on automatically (in the lowest setting) when you pick up the light from the base. Cool right?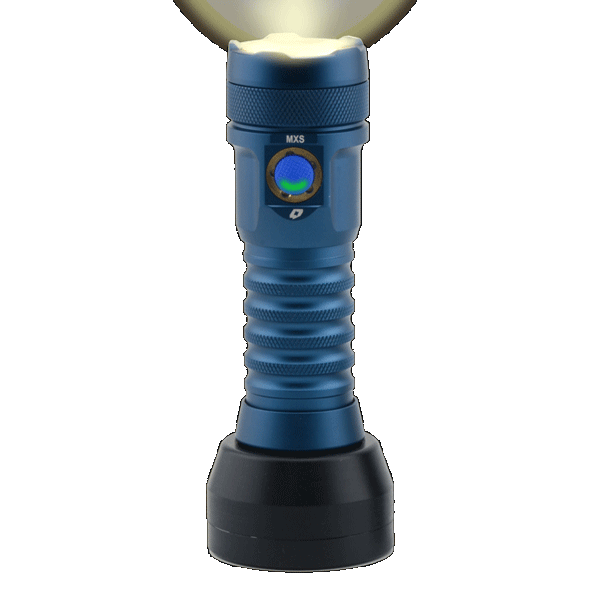 User swappable buttons
Sorry, I come from the custom light world, so I like giving you the option to customize your lights. The MXS comes with two extra buttons, clear and opaque black. You decide. Clear makes the indicator light brighter, and black blocks the light completely. The included switch tool is 3D printed in our shop.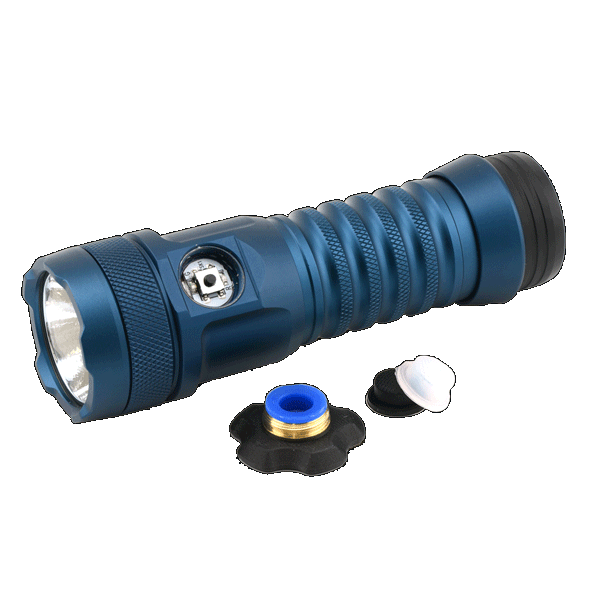 You may also like