Mini MKIII Flex Arm
Put light where you need it, when you need it! The Flex Arm + Mini/Turbo MKIII makes a task light that is mobile, positionable, and cord free.
Product Overview
The Mini Flex Arm lets you get more out of your Mini MKIII Flashlight. The light snaps into the Flex Arm holder (just like the 360 Headlamp) and a strong Neodymium magnet holds the arm to any magnetic surface. The magnet is covered by a rubber boot to prevent marring delicate surfaces, and prevent rotation when mounted on a vertical surface. I keep one in my car for roadside emergencies and we also use them around the shop for mobile task lighting.
Product Details
Loc-Line (the black segments) are commonly used in machine tool coolant systems and other industrial applications. The material is chemically resistant to petroleum products, coolants, and most common chemicals. It's quite expensive but it will take whatever you can throw at it.
The grey base connector and light holder are 3D printed in house on our Fuse1 SLS printer from a durable Nylon12 material. Nylon12 is chemical and UV resistant.
I always have the Beta on my keys and I keep a Flex Arm in my glove box just in case I need to look under the hood or change a tire in the dark. I also keep a Beta, pack of rechargeable batteries, and Flex Arm in my tool bag at home.
We use a number of Flex Arms around the shop as mobile task lighting, or even fixed to different tools that didn't come with lights. If you use rechargeable batteries (I know you do) then you've got a task light that is mobile, positionable, and cord free! Yep, awesome.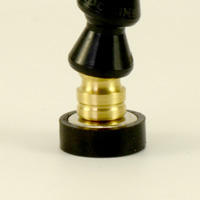 Cup magnet + rubber boot
A cup magnet prevents debris from collecting on the back side of the magnet because only one side is magnetic. The rubber boot prevents marring of delicate surfaces. It does reduce the magnetic force slightly. The boot can be removed for firmer attachment. If magnetic debris gets stuck to the boot you can just remove it and clean it.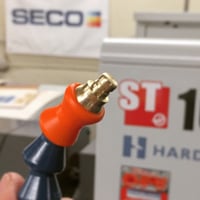 Magnetic Light Holder:
This is essentially the same design as the 360 Headlamp. A large neodymium magnet in the holder attracts the magnet on the tail of the Mini MKIII flashlight and holds securely. It also allows the Mini MKIII to be installed without removing the pocket clip, making the Mini's transition from pocket light to hands-free task like easy and seamless.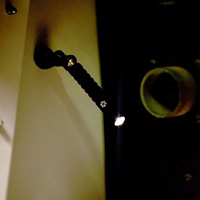 Loc Line:
Loc Line segments can be separated and reattached to make the Beta Flex Arm as long (or short) as you need. Our marking laser has a light installed with only two Loc Line segments because of the small interior space inside the laser cabinet.
included with your Beta QRv2
Mini Flex Arm
Rubber Magnet Cover
Usage notes:
You may need to be smart when positioning the Flex Arm so that isn't easily dislodged. That's okay though, 'cause you are smart and you got this. The further the light is from the magnetic base, the more of a lever you are creating. Keep things compact. Brass and copper lights are much heavier than the aluminum (black and nickel) Betas. Be advised. If you need to reduce the length of the arm, no problem! You can break a joint by bending the segments. Snapping them back together is tough, but it helps if you can push against a surface.
Arm Length

8"

Arm Material

Acetal Copolymer
Connector Material

3D printed Nylon12

Base Magnet

Neodymium Grade 42 (25 lbs.)

Where it's Made