Mini Turbo MKIII
Tons of throw in a small package: the Mini Turbo MKIII is a compact RCR123-powered light that can reach out 200m and is compatible with our 360 Headlamp. The Mini boasts the highest distance to size ratio on our lineup...and does all that with excellent color rendering.
New for 2021/2022:
* Titanium Two-Tone (6/4 Titanium & 6061 Aluminum)
* Midnight Blue (Type III Anodized 6061 Aluminum)
* LED upgraded to XPL-HI with 4000K @ 80+ CRI
Product Overview
---
| | | | | | | |
| --- | --- | --- | --- | --- | --- | --- |
| RCR123 HD | Cree XPL-HI | 700 | 1.5 | 1 hr | 90 hrs | 4000K @ 80+ |
---
Just like the old Minis...but better! Introducing the third generation Mini Turbo MKIII: a compact thrower designed to get the job done.
Product Details
When launched, both Minis set the standard for maximum power to size ratio. Today the industry trend is to keep packing more lumens into smaller and smaller packages. This is a fun way to impress your friends, but these are toys. While impressive, this is not good engineering or design. As you know, Foursevens makes tools, not toys. Minis still punch out more light than you'll need in most situations. In fact, 80% of flashlight use it at less than maximum output. So today, the focus is on color quality, not pure output. Most people who try High CRI never go back, and the loss of lumens is not physically noticable to the human eye.
Today's MKIII Minis are part of a larger ecosystem and not just stand-alone lights. The Mini Series has been evolving for many years, but was never really designed to work with the 360 Headlamp, but I fixed that, and then some. Both Mini MKIII lights feature improved pocket clips, "fuller" grooves ont he body to increase rotational grip, and a magnetic tailcap that is natively compatible with our 360 Headlamp. We also offer a keychain attchment and a "dummy" non-magnetic tailcap for those of you who prefer that.
Burst mode
Using a very fast double twist, burst mode (100%) output is directly accessible from any previous level, and reverts to the last saved mode. Experts agree that most flashlights are used at lower level outputs, but sometimes you need to dial it to up. We've got you covered on both counts.
Hybrid Memory
A blend of memory and no-memory, the hybrid configuration saves the last mode used, but reverts to the first mode in the sequence when shifting out of a saved mode.
pocket friendly
I eliminated grooves or knurling under the pocket clip to ensure your light won't destroy your pants pocket, while maintaining the secure hold and smooth engagement you expect from my pocket clips.
Solid Copper (Direct Thermal) MCPCB
Pioneered by custom makers and modders, the LED is mounted to a solid copper PCB to provide superior thermal performance and maximum output. A first for the Quark.
digital bump protection
Exclusive to Prometheus and Foursevens, Digital Bump Protection prevents accidental mode changes if the light is dropped or tapped on a surface when tail standing. The software detects very short power interruptions and ignores them. Other lights will think you've requested a mode change.
DIY Friendly
*warning-nerd content* This industry was created by individual makers and modders working at home on their kitchen tables. People who love tinkering, technology, and flashlights! Unlike most industries, flashlights have been driven by the little guys and we intend to honor that tradition. Most manufacturers (including Foursevens in the past) glue or thread lock on certain components so they cannot be disassembled without a lot of effort and/or destroying the light. This was to prevent people from tinkering. I say tinker on my friends!
Included with your Mini
Mini Turbo MKIII Flashlight
1xRCR123 High Discharge battery
2 Spare O-rings
Instruction Manual
Operating your Mini is simple:
Make sure that the battery is inserted with the positive side (+) toward the head.
To turn it on tighten the head fully down. The Mini Mk III will turn on when the bezel is fully tightened and turn off when the bezel is loosened.
A quick off/on cycle changes modes
Two very quick off/on cycles activates burst mode
Enter configuration mode with 10 on/off cycles in less than 3 seconds: The light will begin to blink a number of times corresponding to the selected configuration. For example if you are in Config. 3: 3 blinks, pause, 3 blinks. If there is no input for 5 seconds the light will exit configuration mode.
Turn the light off for 5 seconds to save the current configuration to memory
All Minis are initially set to Configuration 3 with Medium/High/Burst. They can be reconfigured as often as you'd like.
Here are the possible configurations:
Config. 1: High - (Burst 100%)
Config. 2: Max (100%) - Strobe
Config. 3: Medium - High - (Burst)
Config. 4: Low - Medium - High - (Burst)
Config. 5: High - Medium - Low - (Burst)
Config. 6: Low - Med - High - Strobe - SOS - Beacon - (Burst)
Brightness Levels: With RCR123A High Discharge Battery
Low (Moonlight): 1.5 lumens, 90 hrs
Medium: 35 lumens, 9 hrs
High 300 lumens 60 min
Max/Burst 700 lumens, 50 min (30 seconds burst, then steps down to high)
LED Type

Cree XPL-HI (4000K / 80+ CRI)

battery type

1xRCR123 High Discharge

Weight

1.8 oz (with battery)

Dimensions

Length: 2.4" / Diameter: 0.8"

Voltage Range

2.0V-4.2V
Beam Distance

200m

Body Materials

Midnight Blue (Type III hard Anodized 6061-T6 Aluminum)
Titanium Two-Tone (6/4 Titanium & Type III Hard Anodized 6061-T6 Aluminum)

Window Glass

Optical grade glass (2 side AR coated)

Water Resistance

IPX8 (1m)

Where it's Made
360 Headlamp Compatible
All Mini MKIII lights feature "native" 360 Headlamp compatibility. The hex and magnet on the base of the light engages the headlamp socket enabling 1-handed operation. The headlamp can also be mounted in a variety of different ways, making the Mini + 360 Headlamp the most versatile hands-free option on the market.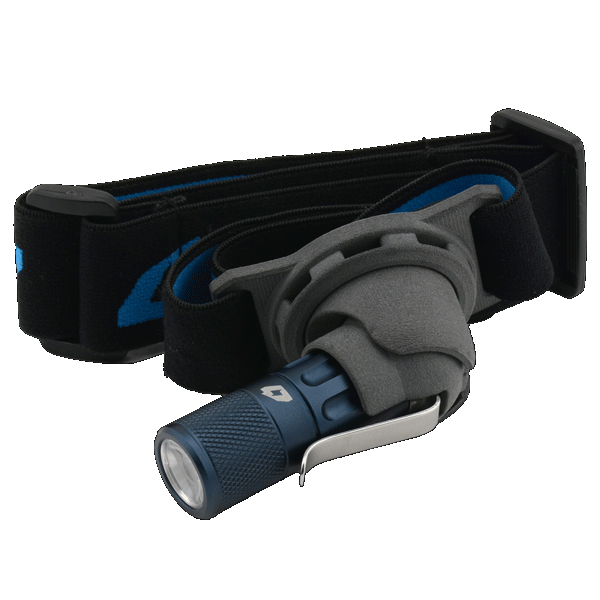 magnetic tailcap
The MKIII features a magnetic tailcap to enable hands free use on ferrous surfaces. The magnet also enables native compatibility with the 360 Headlamp.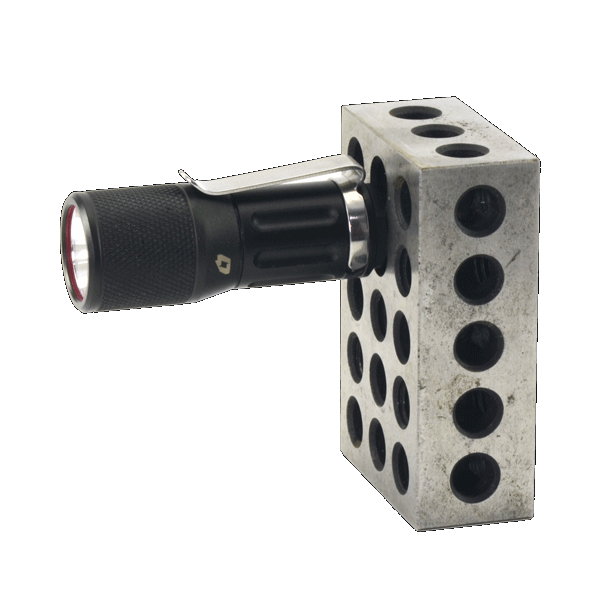 Industry-leading LED
The Mini Turbo MKIII features the newest Cree XPL-HI with 4000K color temperature and 80+ CRI. It's meant to strike the perfect balance between beam quality and output.
Configurable interface
No one can agree on the best program setup so we offer 6 convenient program presets (configurations). Choose your favorite, at any time. The configurable interface is standardized across the entire Foursevens line. No matter what light you pick up, you'll know exactly how to use it.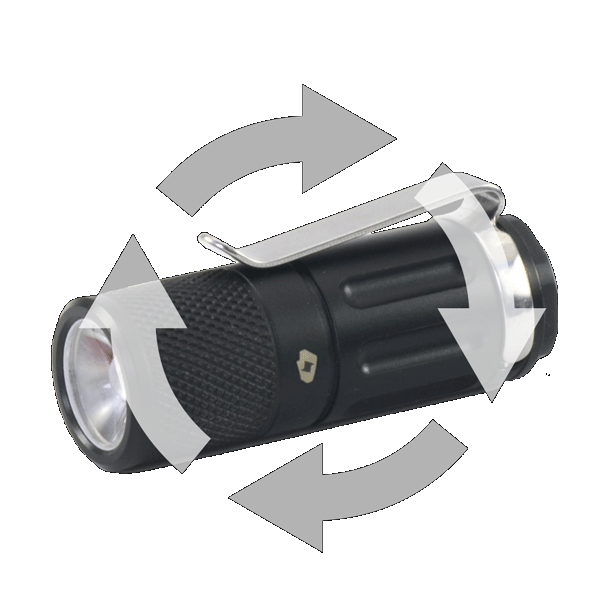 The best pocket clips on the market
Pocket clips are my jam because I obsess about every detail, because every detail matters. The new clip is made from thicker material, provides easier pocketing, and improved grip. Most of the "grip" on a flashlight comes from the pocket clip, not the surface finish.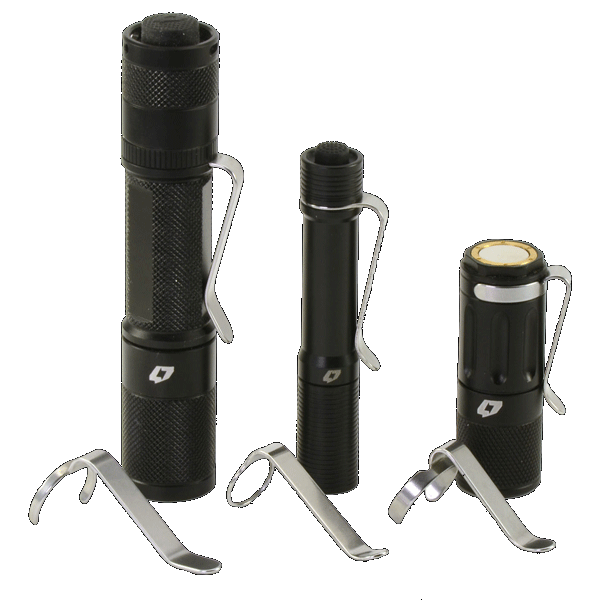 You may also like