Xtar VC4 Multi Charger (Li-ion & NiMh)
The VC4 has 4 independent charging channels and can charge any chemistry. This is absolutely my "go to" charger. USB wall adapter (us plug) is not included. If you want the adapter, please add it via the drop down.
Product Overview
Xtar chargers are top notch and the VC4 is a 6th generation charger. I searched high and low for the best value (performance + price) in a modern charger and this is it. the VC4 even shows you how much capacity was delivered during charge.
Just like its two-station sibling, the VC4 displays detailed charge information on 4 separate charging channels. The VC4 also allows you to charge ANY type of rechargeable battery that will fit: Li-Ion, Ni-Mh, and even Nicd.
The charger automatically detects the battery type and sets the appropriate charge parameters. You can even charge four different battery sizes/types at the same time because of the 4 separate charging channels.
Be advised, you can plug the VC4 into any USB port to initiate a charge; however, a standard USB port only delivers 500mA of current. If you put in 4 batteries the current (500mA) gets divided by 4. If you use the 2A USB wall adapter you can charge 4 batteries at 500mA per channel. If you are only charging on 1-2 channels, each one will get a maximum of 1000mA.
Product Details
Never charge batteries when the cell is cold! You can discharge cold batteries, but charging a cold battery can create an internal short circuit causing catastrophic damage and a possible fire. This effect is immediate, dramatic, and irreversible.
Charging current display
Automatic current adjustment from 0.1A to 1.0A depending on battery chemistry, slot location, and number of batteries being charged.
Battery voltage display
Each segment on the voltage display is approximately 10% of battery capacity. Li-Ion batteries terminate charge at 4.2V and NiMh at 1.45V.
Charging capacity display
The VC4 indicates the amount of energy put into the battery. Be advised, there is some energy lost to the charging circuit so this reading is approximate. If you charge a fully depleted battery, the charging capacity may read higher than the actual battery capacity.
"null" / "Err" Display
The VC4 will test the battery function before initiating a charge. A "null" display means the battery cannot be charged and may be damaged or incompatible. An "Err" display indicates the battery is installed backwards (reverse polarity).
0V Activation for protected batteries
Many Li-Ion batteries use a "protection circuit" to prevent over voltage, under voltage, over charge, over discharge, and short circuit. If a battery is fully depleted it will trip the low voltage/over discharge protection and disable the battery. Typically the VC4 can "reset" the protection circuit and bring the battery back to life.
included with your purchase
* VC4 Charger
* USB Cable
* Storage bag
* Instruction Manual USB 120V Wall Adapter is an option accessory, it is NOT included
input

DC 5V USB (2.1A)

output

1A-0.5A per channel (x4)
charge termination voltage

4.2V +/- 0.05V (Li-Ion) or 1.45V +/- 0.1V (NiMh)

weight

210g

where it's made
maximum compatibility
The VC4 charges any li-ion or NiMh cylindrical cell can is capable of charging different size/chemistry cells at the same time. Note: 20700/21700 "protected" batteries are too long to fit this charger.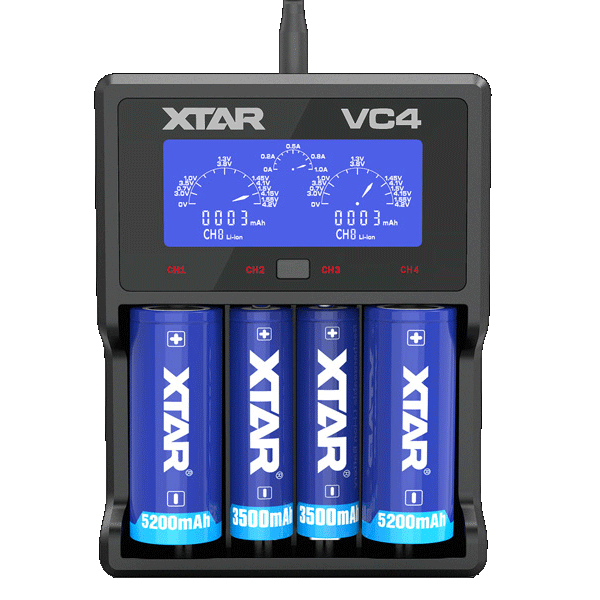 LCD Screen
The backlit screen displays charge current, battery voltage, input capacity, cell type, and charging channel. The backlight can also be turned off.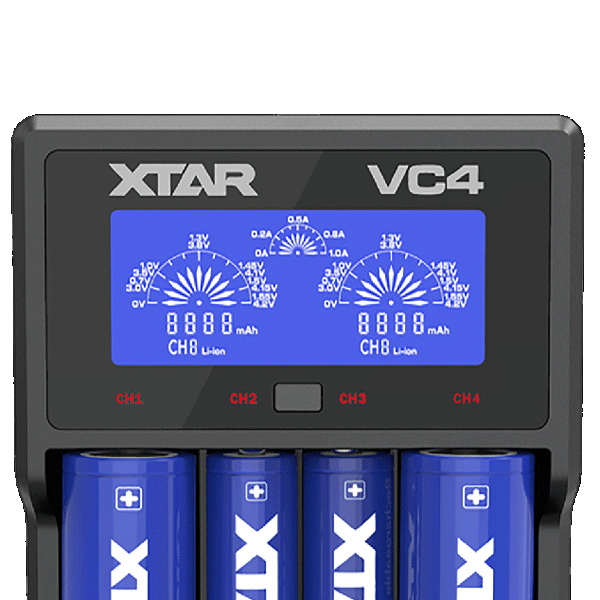 0.5A/1.0A Charging current
Only the exterior slots can provide 1A charge current. When using more than two channels, every channel will deliver 0.5A charge current. 2A adapter required for maximum charge rate.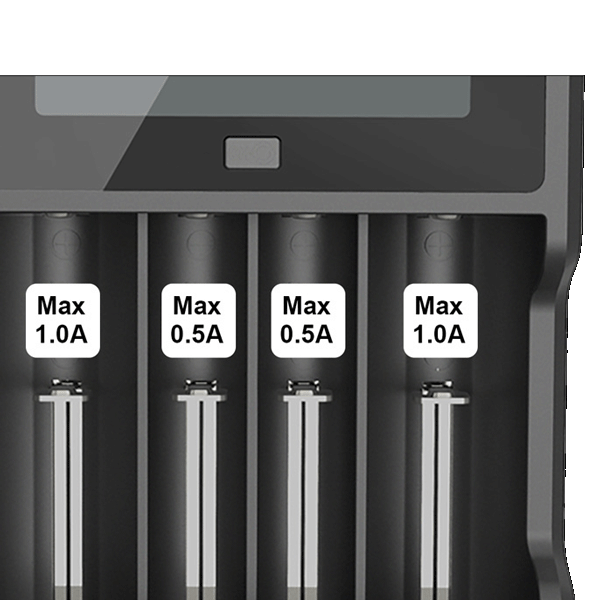 USB Charging Cable
Charge anywhere! Compatible with all 5V USP power sources including USB wall adapters, cell phone adapters, solar panels, PC USB ports, power banks, etc. 5V/2.1A power source is recommended for maximum performance.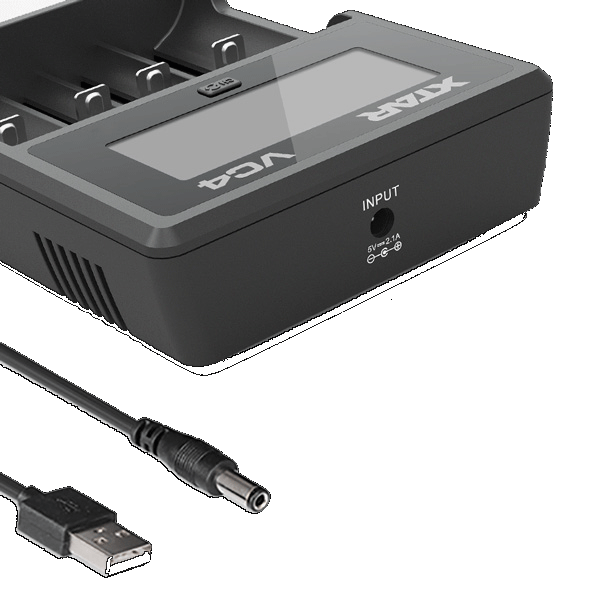 You may also like